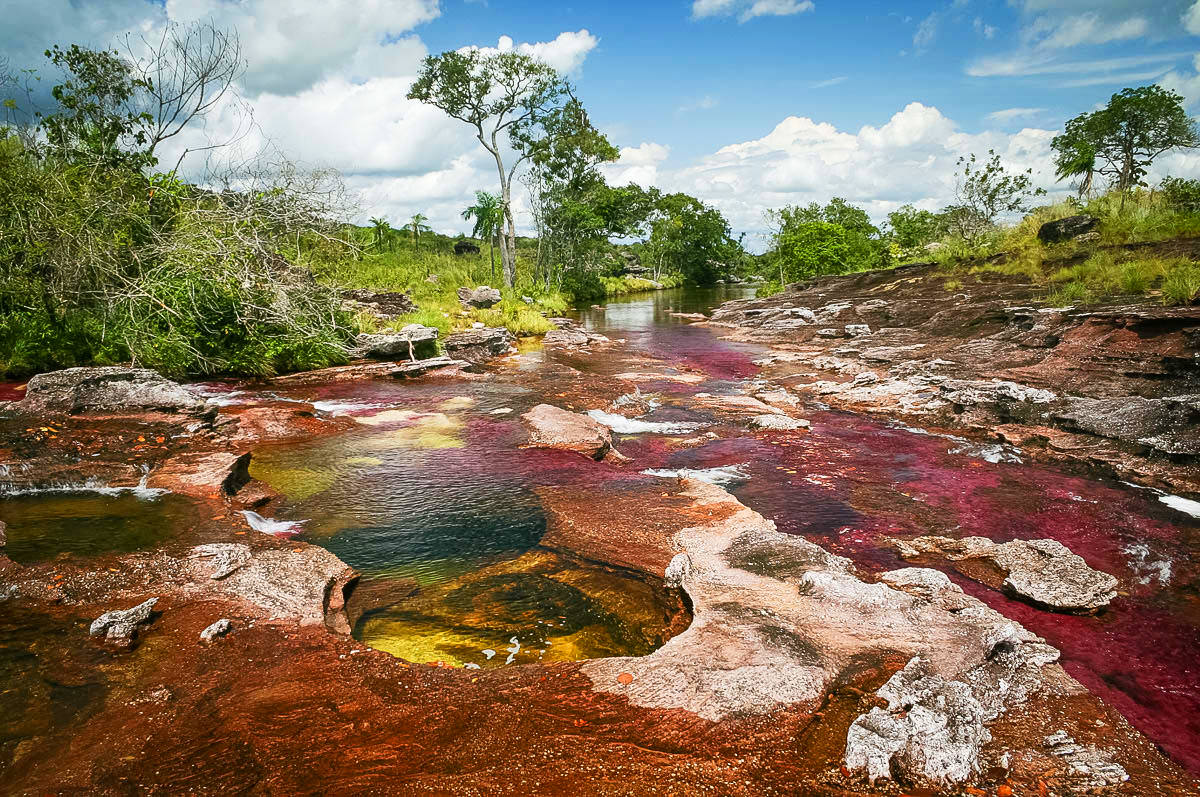 Caño Cristales : The essential
How to visit Caño Cristales: In Formulas in 3,4 or 5 days from Bogota, Villavicencio or the macaren
When to go to Caño Cristales: From June to November.
How long should you stay in Caño Cristales? Plan on 3 days minimum
How to get to Caño Cristales Several departures by plane from Bogota and Villacencio. or off-trail formula beaten by land voice
Cost of a trip : between 500 and 600 euros per person
Health and and vaccines:Yellow fever vaccine advised.
Equipment needed: long and light clothing, walking shoes for wet terrain, bathing suit…
Products not allowed on site: Water bottles, sunscreen, insect repellents, cigarettes.
When to visit Caño Cristales?
The best time to visit Caño Cristales is from June to November. This is when the park is open to the public, as the aquatic plants become colourful during this period. In order to avoid the influx of tourists, we advise you to go at the beginning of the season, when there are fewer people,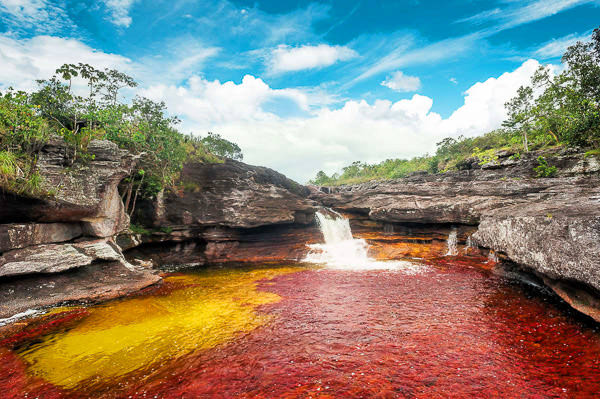 How long can I stay in Caño Cristales?
In order to enjoy the site sufficiently, plan a 3 day, 2 night minimum stay. It is also important to bring enough cash. The hotels around Caño Cristales are generally quite rustic, without hot water.
How to get to Caño Cristales?
The only means of transport available is by air, and only from Bogotá or Villavicencio. The only company offering flights is Satena. Arrival is at Aeropuerto Javier Noreña Valencia in La Macarena. Satena offers 3 flights per week (Wednesday, Friday and Sunday). It is also possible to rent an avioneta (a small 5-seater motor plane), offering more flexibility on departure times and dates.
From La Macarena you can reach Caño Cristales in 20 minutes by small motor boat. From there it is a 30 minute jeep ride and a 30 minute walk.
Caño Cristales : Health and vaccines
The yellow fever vaccine is recommended if you plan to go to La Macarena. Caño Cristales and its surroundings is not a malaria risk area.
This site is suitable for all ages, but due to the high temperatures we recommend that you are in good physical condition.  The paths along the river and in the riverbed can be difficult (stones, rocks).
Equipment needed to go to Caño Cristales
A good pair of shoes for walking in a wet area.
An extra pair of shoes for the evening and afternoon.
Wear long, light clothing against mosquito bites and the sun. Ideally clothes that dry quickly.
Cap and hat to protect yourself
A water bottle (as plastic bottles are not allowed).
Rain clothes
A swimwear
A handy little backpack for walking
IMPORTANT: No products allowed on the site!
It is forbidden to use sun cream on the site to avoid damaging the fragile and unique ecosystem of Caño Cristales. 
Plastic bottles are refused
It is forbidden to use repellent on the Caño Cristales site 
Smoking is not permitted on the Caño Cristales site 
This site is fragile and it is important to protect it by avoiding all chemical products (exchange your classic deodorant for alum stone for example) and synthetic clothes.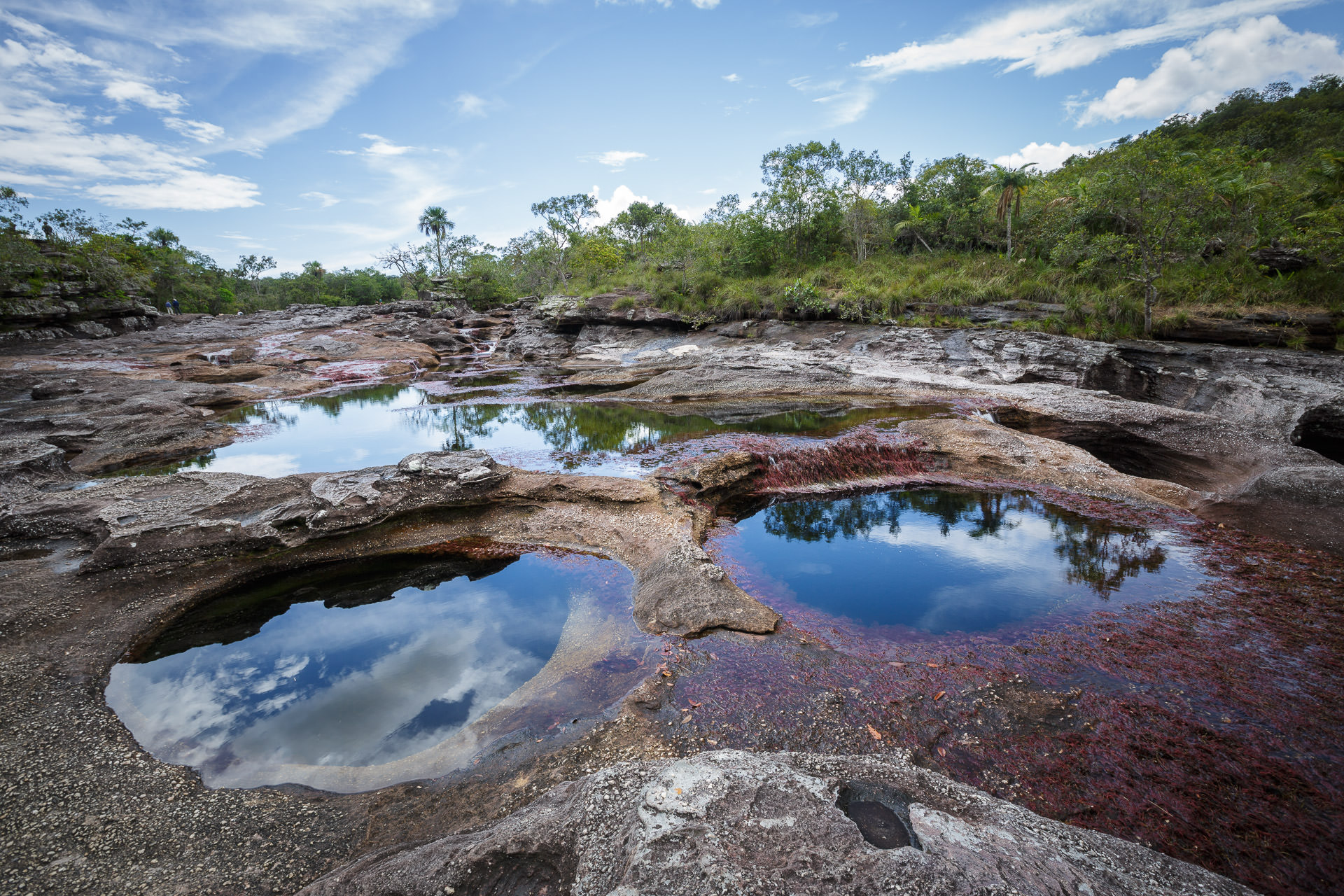 Visit Caño Cristales with Adventure Colombia.
Accompanied by an experienced local guide, discover Caño Cristales, this natural and prehistoric wonder.
Caño Cristales in 3, 4 or 5 days.
Caño Cristales is an exceptional and surprising natural site, among the most beautiful in the world. Enjoy the amazing natural landscape and the local flora and fauna, on colorful hikes! On each of our tours, you can take a dip in natural waterfalls and pools. You will discover local customs and gastronomy and cruise by boat on the different rivers of the region. This tour departs from Bogota, Villavicencio or La Macarena. 
Colombia Adventure tour options.
If you want to visit all the branches of the 5 colors river, we recommend you to make a 5 days trip to Caño Cristales. This will allow you to take the time to discover all the corners of this sublime region. If you can't go that long, the ideal tour that we often suggest is to visit Caño Cristales and its surroundings in 4 days.
It is perfect to have a nice overview of the area and to make at least 2 trips to the site of the crystal river. It is also possible to make a trip to Caño Cristales in 3 days, during a long weekend, in order to go to the park for a day and to have a small overview of the surroundings. It's quite short but it's doable!
How much does a trip to Caño Cristales cost?
For a trip to Caño Cristales, you should count on prices between 500 and 600 euros for the 4-day formula, starting from Bogota. You can take off 100 to 150 euros if you start the tour from La Macarena. 
Offering several departures per week, do not hesitate to contact us by email or via chat to receive a free quote. If you are already in Colombia, you can go directly to our travel agency in Bogota where one of our consultants will be happy to help you.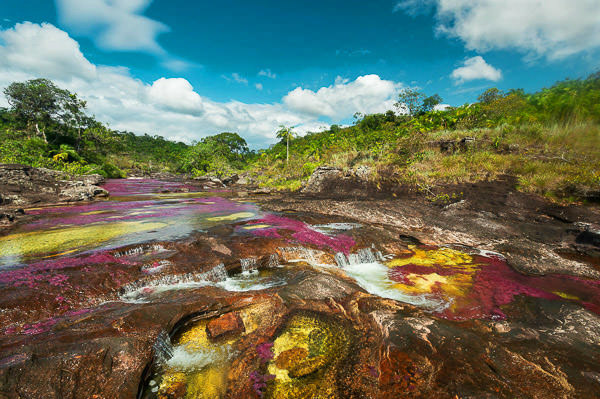 Caño Cristales: Preservation of the ecosystem
With global warming sweeping the globe, Caño Cristales is on the list. 
Bathed in a very fragile ecosystem, these small purple algae that make all the magic of the place are currently in danger.  It is to preserve their heritage that the National Parks of Colombia have put in place regulations and restrictions.
Caño Cristales Wiki
For more than three centuries, the Llanos region was ignored by the conquerors, who favoured the development and occupation of the coastal plains. The natural obstacles in the region, such as the fast-flowing Orinoco River and the heavy climate, have long hindered the development of the area and discouraged migrants from settling there.
However, a small group of people from east of Bogotá settled there in the early 1840s. The people of the Llanos, formidable horsemen, contributed greatly to the fight for the country's independence alongside Simon Bolivar.
Literally, crystal river, but also called "river of the five colors", or "the most beautiful river in the world", this exceptional and surprising natural site, constitutes a unique ecosystem and is now part of the Sierra de la Macarena National Natural Park. It is located near the village of laMacarena which happens to be the starting point for the site. It is for us one of the most beautiful and impressive natural sites in Colombia.  
This succession of waterfalls and rock formations offers an exceptional spectacle. The most breathtaking remains the endemic prehistoric aquatic plants (which are not algae) that color the river yellow, red, green and blue. These plants called Macarenia Clavigera line the rocks and only color from June to November, during the rainy season. They change color depending on exposure to the sun.
Did you know?
The river divides into two important arms: along the left arm, with the famous Los Hoyos waterfalls, the La Virgen waterfalls, Los Cuarzos and the Los Pianos waterfall. On the right arm of the river, you can go up to the Salto del Aguila waterfall. You canswim and dive in thenatural pools multicolored by traveling up the Guayavero River in a lancha (small motorized boat), and then by 4×4 from La Macarena.
Some additional info:
The magical site of Caño Cristales has only beenopen to tourism since 2010. Previously, it was in FARC territory. The area is now totally secure. The ecosystem of the Crystal River is fragile and access conditions arestrict in order to preserve this unique natural site. 
In the vicinity of Caño Cristales, you can also discover the other wonders of theNational Park Serranía de la Macarena, declared Biological Heritage of Humanity by UNESCOand the first Colombian nature reserve classified in 1948. Its nature is beautiful and amazing, at the meeting of the Oriental Cordillera of the Andes, the Amazonian forest and the plains of Llanos. It is also the land of the Guiana Plateau, some of the oldest rock formations in the world.
Contact a Travel Agent now
Design the trip of your dreams today with one of our country experts: