[catlist categorypage="yes" conditional_title="Related Articles"]
Climate in La Guajira
The climate, especially in the peninsula, is arid, dry and with high temperatures, modified by sea breezes and north-easterly trade winds that blow for most of the year; rainfall is rare and usually occurs during the months of September to November, when the Inter-Tropical Convergence Zone (ITCZ) moves northwards.
When to go to La Guajira
The village of Cabo de la Vela should be avoided during Holy Week, December and January if you want more peace and quiet. To go to Punta Gallinas, it is best to avoid October/November because of the rains which make access very difficult.
La Guajira: Health
It is an adventurous and demanding desert crossing, without the comforts of conventional tourism. Water is scarce and the little electrical energy is obtained by generators and solar panels. The roads are dusty, the sun and heat permanent during the day and the nights often cool.
There are no hotels, the accommodation is in traditional hammocks in Wayúus Indian communities (rustic beds are possible). For this trip, the visitor must be in good physical condition. It is not recommended for children under 8 years old and adults over 70 years old. Anyone with chronic health problems should avoid this difficult destination.
Equipment needed to go to La Guajira
Boots or tennis shoes, sandals or beach shoes (depending on the activity), light shirts and trousers, swimming costume, duvet, toiletries (toothbrush, towel, soap and dental cream), a lantern with spare batteries, sun cream, mosquito repellent, sunglasses, hat, identity documents, personal medication.
Main events in La Guajira
Second week of May: Festival of Culture in Uribia (duration: 3 days), a major event of the indigenous Wayúu culture. There are exhibitions of typical handicrafts, a gastronomic festival with regional dishes and competitions of musical instruments with traditional dances, horse races and the election of Miss Wayúus, elected on the basis of knowledge of her culture.
How long to stay in La Guajira
We advise you to stay in La Guajira for a minimum of 3 days to visit Cabo de la Vela and Punta Gallinas. If you have more time, don't hesitate to add 2 more days (or even 3) to visit the Macuira Park.
How to get to La Guajira
BY PLANE: Almirante Padilla de Riohacha airport is located 3 km from the city. It offers connections to Barranquilla and Bogotá with Easyfly or Avianca. The airport also serves Maracaibo in Venezuela, Aruba (Dutch overseas territory) and the Dominican Republic.
BY ROAD: There is also a bus terminal 11 km from the city centre. Buses arrive from Bogotá (18:00), Cartagena (6:30) and Santa Marta (2:30).
Note that the interior of the region is very difficult to access, and can only be reached by 4×4 or boat. It is also possible to hike or cycle there.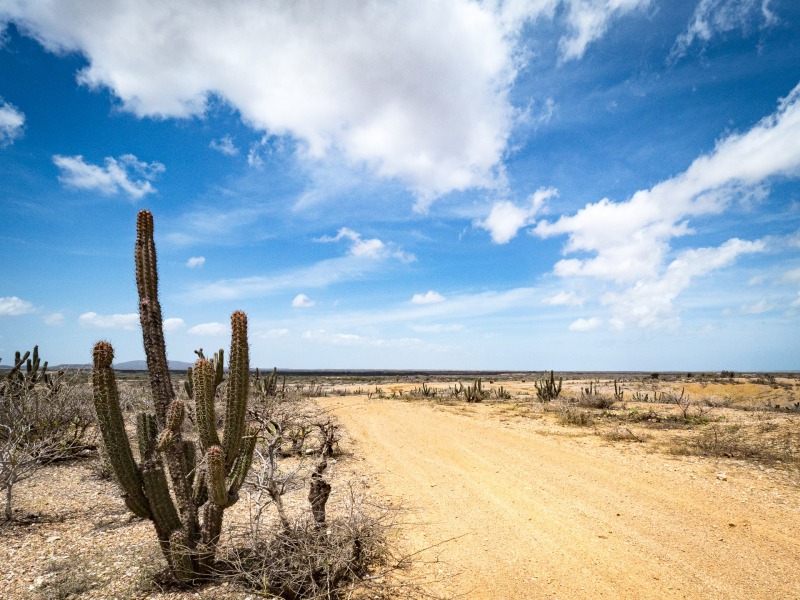 Contact a Travel Agent now
Design the trip of your dreams today with one of our country experts: