If you like mountainous landscapes and beautiful, unspoiled colonial villages, Villa de Leyva and the Boyaca region are for you.
Villa de Leyva is home to Colombia's largest square, the majestic Plaza Mayor with its cobbled floor and beautiful church. Villa de Leyva is a romantic town, full of charm, a refuge for weekend bogotanos who come in search of peace and quiet. The town has even been declared a national monument! For us, it is the ideal place to stroll through the streets. It is a village full of charm, which gives the impression of being frozen in time, set at the foot of majestic Andean mountains. 
In the surrounding area you can walk, ride or cycle through the arid and deserted landscapes of the region, which charm with their magic. 
[catlist categorypage=yes orderby=date conditional_title="Related Articles" excludeposts=this order=desc child_categories=false]
Villa de Leyva and Boyaca in video
Must see in Villa de Leyva
La Plaza Mayor
This is the first thing you will see because the Plaza Mayor is a must. This 14,000m2 cobbled square is the largest square in Colombia. It is the largest square in Colombia and is the place to be for eating, drinking and for the many events that take place there. The Plaza Mayor is surrounded by beautiful colonial buildings and a charming parish church.
In the middle of the square, you will find a small fountain that has long supplied the village with water. Some of the historic houses in the square have now been converted into cafés, restaurants and shops and are worth a visit.
The convent of the Discalced Carmelites (Carmelitas descalzas)
This convent is home to a community of Carmelite nuns who have been in permanent seclusion since its foundation in 1645. They dedicate themselves entirely to manual work and prayer.
Monquira Archaeological Park, El infiernito
This is a very unusual site to see if you are interested in astronomy and pre-Columbian history. El Infiernito is an ancient astronomical centre of the Muisca communities, who used stone monoliths in the shape of a phallus (symbol of fertility) and the rays of the sun to determine the seasons and establish a calendar for the harvesting of crops.
In the surrounding fields, many rectangular stones of different sizes have been found, and it is assumed that they were used for Indian worship and ritual.
Opening hours: Tuesday to Saturday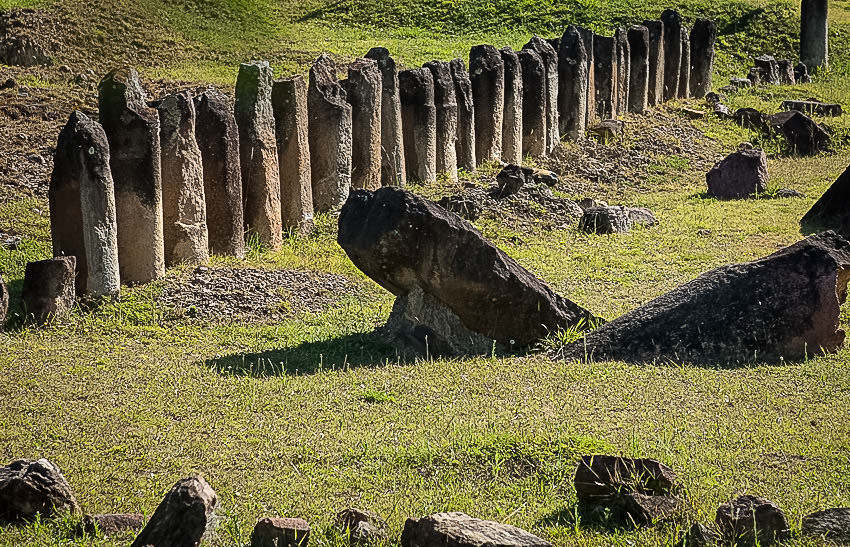 Convento Santo Ecce Homo
This convent is worth a visit if you have time and are spending at least a few days in Villa de Leyva. It is a beautiful, secluded monastery, located 15 km from Villa de Leyva, which was founded in 1620 by the Dominicans. It has a magnificent golden altar and its floor is paved with fossil stones.
The place is very aesthetic. The interior patio of the convent, full of flowers, is characterised by its beautiful arcades with columns. A small museum inside the convent traces the colonial history and the process of evangelisation of the Indians by the Spanish crown.
Opening hours: 8am – 5pm Tuesday to Sunday
The world's largest ceramics, in this magical place, architecture and design, as well as other arts and crafts, merge. Since its origin and concept, the Colombian architect and ceramist Octavio Mendoza Morales has sought to promote an alternative and harmonious way of life for the individual and the community, as well as for the surrounding environment.
Casa Terracota is a building project that uses the four elements, earth, air, water and fire, to transform fired clay into architecture.
Opening hours: Friday to Monday from 10:00 to 17:00
Rates: Friday and Monday (except public holidays) COP$20,000, Saturday, Sunday and public holidays COP$25,000
Bike rides
There are several cycling routes in and around Villa de Leyva. Several excursions are possible depending on your taste and physical condition.
Recommended activity:
An 8 hour tour between the Candelaria desert, the Pozos Azules, the paleontological museums, the village of Santa Sofia, the Passage del Angel while admiring the rivers and waterfalls.
Take the old road to Gachantiva and visit the Pozo la Vieja and the Alto de los migueles in a 5 hour walk.
Pass through the small villages of Boyaca while admiring the beautiful waterfalls.
What to visit in Villa de Leyva? Activities Adventure Colombia
Horse riding, quad biking, hiking, biking and walking tours… discover our list of activities to do in Villa de Leyva and Boyaca, don't hesitate to contact Aventure Colombia [email protected] for more information and/or reservations.
Historical walking tour of Villa de Leyva
The historical walking tour of Villa de Leyva will make you discover the hidden treasures of the village, passing by the Plaza Mayor, the small cafés and craft shops, a wool weaving workshop… You will also discover during this walking tour the Mesopotamia Mill (vestige of the Spanish colonization) and the convent of the Discalced Carmelites. Count on 3 hours of visit accompanied by a local English or French speaking guide.
Horseback riding in the desert
During a pleasant 4-hour horseback ride, you will discover the archaeological park of Monquira with its ancient Muiscas astronomical centre, the fossil of a Kronosaurus more than 120 million years old and the Pozos Azules where you can even swim! You will also visit the casa Barro, all accompanied by a local English or French speaking guide.
Villa de Leyva : Restaurants 
ANTIQUE Restaurant with Colombian and international cuisine, wine selection and cocktails. The restaurant is located on the first floor of a colonial house with a terrace overlooking the rooftops and the Church of Carmen. Address: El Solar de la Guaca, Carrera 9 n°13-55 Opening days and times: Mon – Fri: 12pm – 11pm, Sat/Sun/Fri: 11am – 1am Prices: dishes between $20,000 and $40,000
LA ARCADIA Restaurant located in the central square of Villa de Leyva under the arcades, offering a varied cuisine: pizzas, salads, meat, fish for a reasonable price. Address: Calle 13 n°9-10, Plaza Mayor Opening days and times: Every day, lunch and dinner. Prices: dishes between 30 000$ and 50 000$.
LOS PORTALES Located in the main square under the arcades, it is a family restaurant offering Colombian and Italian cuisine. We recommend the trout. Address: Calle 13 n°9-20, Plaza Mayor Opening days and times: Mon – Sun: 11am – 11.45pm Prices: dishes between 30 000$ and 50 000$.
MERCADO MUNICIPAL The restaurant is located in a colonial house dating from 1740. Guests eat in the garden of the house on wooden tables. The cuisine is Colombian and Italian, with meat cooked over a wood fire. Address: Carrera 8 N°12-25 Vila de Leyva Opening days and times: Mon – Sat: 1pm – 9pm, Sun: 1pm – 10pm Prices: dishes between $30,000 and $45,000
SAVIA The restaurant offers cuisine based on organically grown ingredients. You can enjoy vegetarian dishes as well as fish, seafood and meat. Address: Calle 10 #6-67, Villa de Leyva Opening days and times: Sun – Thurs: 12pm – 9pm, Fri/Sat: 12pm – 11pm Price: Between $10,000 and $36,000
LOS KIOSCOS DE LOS CACIQUES The best of the typical Villa de Leyva cuisine. A la carte dishes. Address: Carrera 9 #9-05 Opening days and times: Mon – Sun: 7am – 8pm
TIERRA BUENA Traditional gastronomy made with organic products. Address: Carrera 9 no. 11-75, inside Casa Quintero Price: $75,000 menu
Villa de Leyva : Craftshop
LA TIENDA FEROZ Local designer craft shop Address: Carrera 9 #14-101
Contactez Maintenant Un Conseiller de Voyage
Construisez dès aujourd'hui le voyage de vos rêves avec l'un de nos experts du pays: