The relationship with money in Colombia. What do you need to know to travel to Colombia?
Currency and money in Colombia
The currency is the Colombian Peso (COP), the sign used is the dollar $. There are bills of $1,000, $2,000, $5,000, $10,000, $50,000 and $100,000 as well as coins of $50, $100, $200, $500 and $1,000. 
There are old and new bills in circulation and old and new coins of different sizes and appearance for the same value. Also it is possible to mix 1000 and 10 000 bills as well as 2000 and 20 000 bills because they look the same.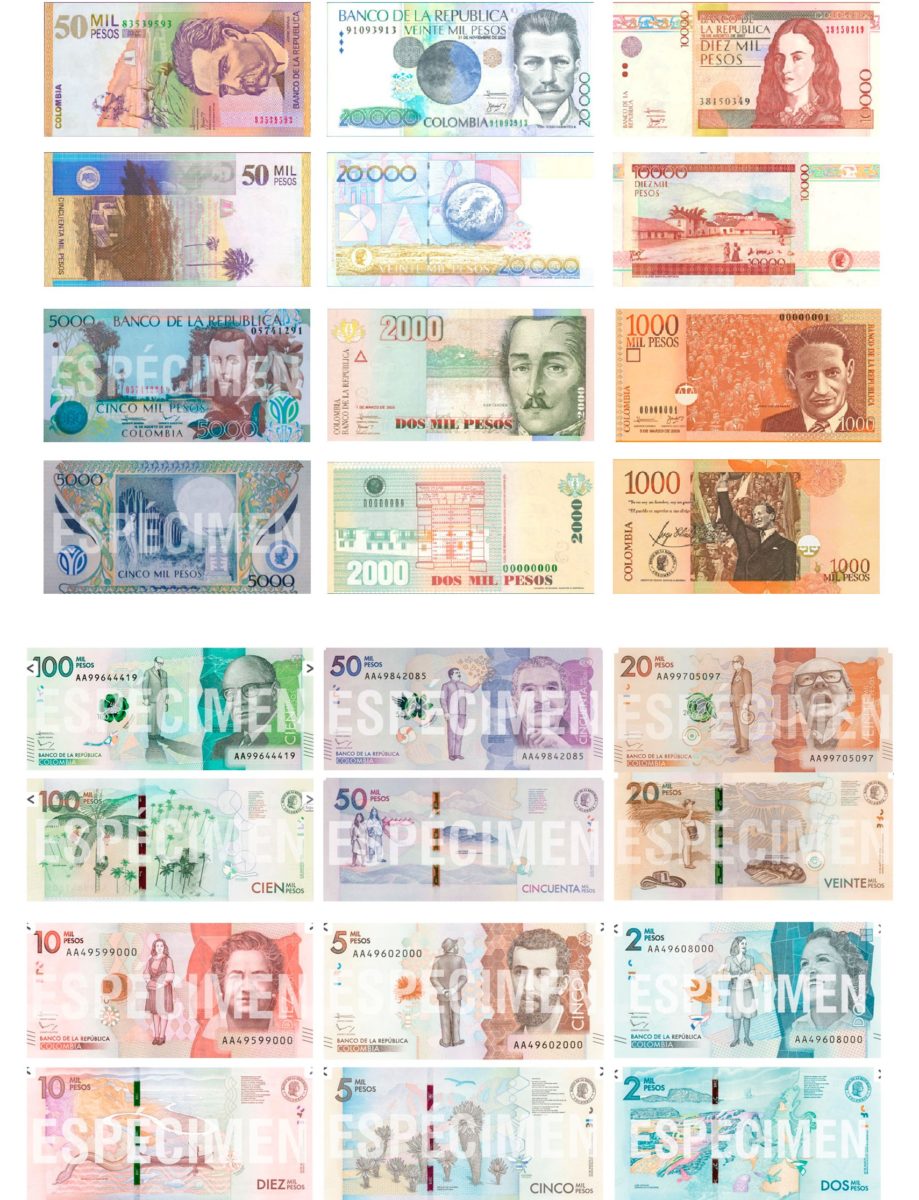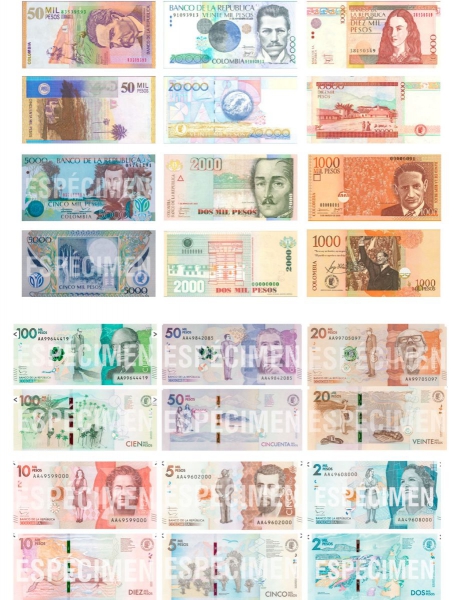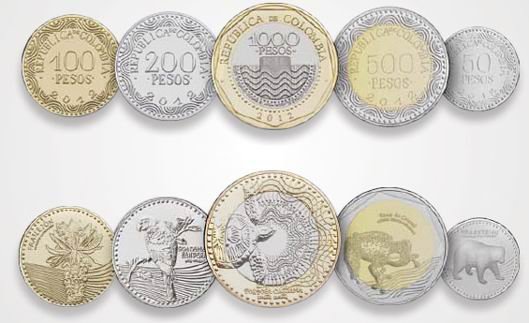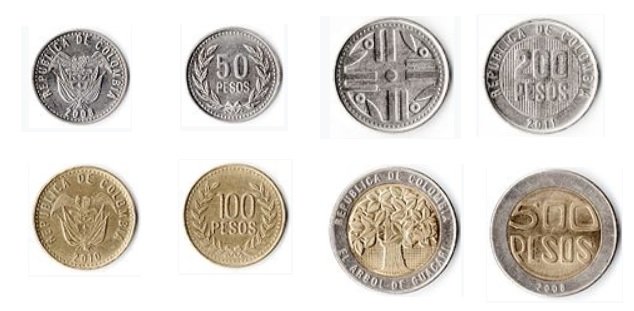 Changing Euros into Colombian Pesos
It is easy to change euros and US dollars on site or when you arrive at the airport. 
These are the most widely accepted currencies in the country. You can exchange directly at the airport before going through customs, but there are offices on the other side as well. If you have enough to wait for the next day, you will find better offices in the centerlike the one in the Esmerald Trade Center (Avenida Jimenez # 5-43 Bogotá).
It is easy to change money in large cities, but almost impossible in small towns and villages, so plan ahead. It is also possible to change Canadian dollars or Swiss francs in many exchange offices. 
We advise you to check the current exchange rate in order to get a good rate. We also recommend that you only change money in trustworthy establishments, banks or hotels. We strongly advise against changing money on the street as it may be counterfeit.
Withdrawing money in Colombia
Withdrawing money from ATMs is easy in the city as there are many ATMs easily accessible in banks and shopping centers.
You can withdraw cash at no local charge(ATM) from the Davivienda and BBVA banks, which are present in every major city in the country. ATMs are easy to find by typing the bank's name into Google Maps.
In general, the maximum amount per withdrawal is COP 300,000 (90$) in many banks up to COP 600,000 – 900,000 (approx. 250$) in Bancolombia and BBVA. In general, it is best not to carry large amounts of cash.
It is possible to pay with credit cards in many supermarkets and hotels and you won't always need to carry much cash.
For your safety, do not withdraw money at night and use ATMs inside the banks or individual booths that can be closed. Also, do not accept help from anyone. If an ATM does not work, go to another bank.
Bank fees in Colombia
Remember to contact your bank about your trip to Colombia if you use a traditional bank, as your card may be blocked as a precaution. 
Ask about the fees charged by your bank before you travel as they can be quite high. 
Some ATMs charge a fee on your withdrawal, this amount is mentioned before validating the withdrawal. To avoid paying this amount go to the banks Davivienda or BBVA.
Pay and withdraw in Colombian Pesos without bank charges
If you stay temporarily it is not interesting to open a bank account in the country. 
However, there are solutions to pay in Colombian pesos without fees and even withdraw cash without fees (under conditions) by having an account funded in euro or other currency. 
It is about mobile banks, there are several of them, we have already used Revolut and N26 and we are satisfied with them. It's quick and easy to open a free account and receive a Visa or Mastercard payment card.
Open the account at least 2 weeks before your departure if possible to receive the card in time.
Taxes and tips
The VAT (IVA in Colombia) is included in the prices. The prices are displayed including taxes unless otherwise stated. 
At the restaurant
Tipping is not mandatory in restaurants. 
At the time of the bill, the waiter or waitress will ask you if you want to add the "service" (tip). It is not obligatory to pay this tip, but do not hesitate to do so if you are satisfied with the service, the restaurant owner will add 10% on your bill.
To the taxi/driver
It is not necessary to tip the driver unless he or she is making a real effort to help you. 
To the luggage carrier
It is expected to tip 2,000 pesos to someone who helps you with your luggage.
To the guide
Tipping your guide is always appreciated. You can ask your agency for advice.
Take pictures with someone
It is good practice to ask before taking a picture. In general in the villages people accept willingly and generally do not ask for anything.
However, be careful if you take pictures in tourist places like Cartagena where the Palanqueras will ask you for a tip. 
It is important to agree beforehand because we have already seen people in traditional costume asking up to 50000 pesos (15€) in Cartagena for a photo with someone! 
For a photo giving between 1000 and 5000 pesos is a good tip.
Negotiating and Trading in Colombia
It is possible to negotiate and is even expected in the markets and with street vendors. In the markets you can always make a lower offer than the proposed price. Take part in the game but stay calm and relaxed. 
Also keep in mind that 1000 COP is worth about 0,40$
It is sometimes possible to negotiate with hotels as well. It is generally not possible to negotiate long distance transportation by bus or plane. It is also not possible to negotiate in stores.
Contact a Travel Agent now
Design the trip of your dreams today with one of our country experts: