Would you like to get to know the cultural and economic capital of Colombia? Bogotá is an amazing and gigantic city, perched at an altitude of over 2,700 metres. In Bogotá you will find all kinds of neighbourhoods. We advise you to stroll through the colourful streets of La Candelaria and to stop in one of its intoxicating squares for a good coffee.
There are also the modern and chic districts of the north, where you can party, drink good cocktails and eat in great restaurants. Bogotá is above all a gastronomic capital, where you will find institutions but also many small authentic, original and creative addresses. Bogotá is a bustling capital, with a historic centre full of colonial and pre-colonial treasures.
Spending a few days in Bogotá means letting yourself be carried away by a city that moves at a thousand miles an hour, where history and modernity form a unique, authentic, Latin blend. For more information, discover our Bogota : Travel guide containing practical information to prepare your stay.
Travelling around Bogota: The essentials
Bogota: The capital of Colombia is a bustling, cosmopolitan city with many places of interest.
Guatavita: Emerald and sacred lagoon, directly linked to the legend of El Dorado!
Chingaza National Park: The ideal place for a high mountain hike (2h from Bogota)
Salt Cathedral of Zipaquira: An unusual place 1.5 hours from Bogotá and a must-see on your way to Villa de Leyva.
Honda: a pleasant stopover on your way to the coffee region
Suesca: A charming little village that will delight climbing enthusiasts
What to see around Bogota?
Guatavita lake
If you are looking for a natural and cultural getaway, just outside of Bogotá, we recommend a trip to Guatavita, an emerald lagoon directly linked to the legend of El Dorado. Only 72 km north-east of Bogotá, the lake of Guatavita is still a sacred site for the Muiscas descendants. This lagoon was for many centuries dried up, drained and plundered by the conquistadores.
To get to the lagoon, you can take a bus for about 1.5 hours from Bogotá to Sesquile and then a shuttle bus will take you to the lake. For your convenience, we recommend a day trip to the lagoon and a walking tour with a guide who will tell you all about the legend of El Dorado.
Entrance fee : 17.000 pesos
Did you know that? Some say that a meteorite formed this emerald lake surrounded by greenery. Others believe that it was formed by the erosion of the saline layers. This perfectly round crater reflects the sky like a mirror in the idyllic setting of the Andean peaks. The lagoon appears even more beautiful on a clear day.
What is the legend of El Dorado? According to the legend of El Dorado, it was on this lagoon that the ritual of the investiture of the Muisca cacique took place. The cacique was covered in gold dust and was carried on a raft filled with gold statuettes and precious stones which were then thrown into the lake as an offering to the gods.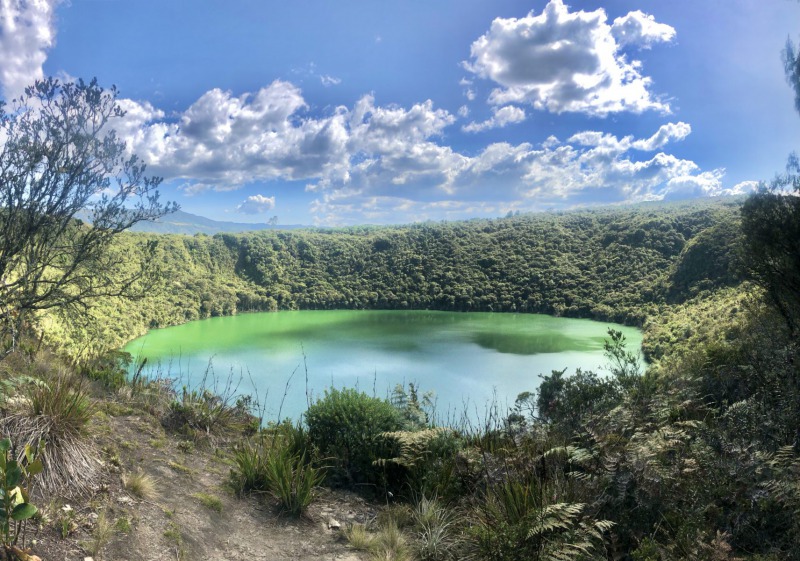 Chingaza park
If you are a lover of nature and high mountain landscapes, we recommend a walk in the Chingaza National Natural Park, only 1h30 east of Bogota.
Depending on your level of ability, it's a 4 hour mountain hike to see the 3 Siecha lagoons, the geysers, the sharp peaks of the park and the beautiful Paramo landscapes.
Expert tip: Beware of mud! Bring good, sturdy shoes, or even boots. Access to the park by public transport is complicated. Ideally, you should rent a car or plan an organized tour.
Admission: 42,000 pesos for non-residents
Access limited to 40 people per day. We advise you to book in advance, especially on weekends and public holidays 
Why should you visit Chingaza?
This 76,600-hectare park is ideal for getting in touch with nature and getting to know the typical high mountain landscapes and ecosystems, such as the paramos landscapes and its frailejones (typical high altitude shrubs, above 3,000 metres). A walk in Chingaza Park is also an opportunity to discover the incredible biodiversity of the region.
In Chingaza you will find more than 38 unique plant species and many vulnerable animal species (the Andean condor, the spectacled bear, the tapir, the puma, the jaguar, among others…) which the park contributes to preserve.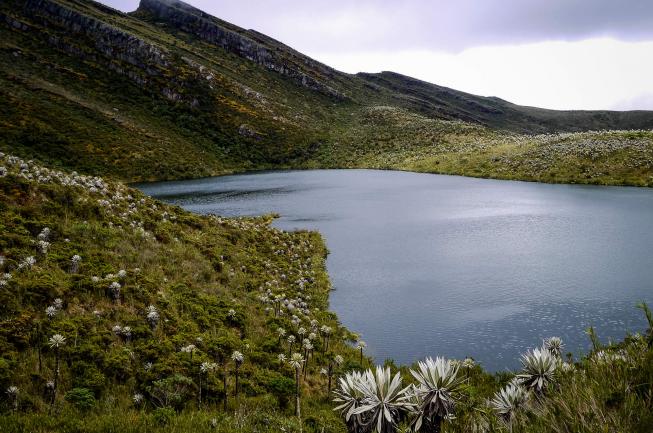 The Salt Cathedral of Zipaquira
This is the ideal day trip from Bogotá. Or a must-see on your trip to Villa de Leyva. Do you want to take exceptional photos and discover a unique architectural work of art? We recommend a visit to the majestic Salt Cathedral in Zipaquirá, 45 minutes from Bogotá. Take the time to visit the charming colonial streets of the village of Zipaquira.
Please note: The Salt Cathedral is a highly touristy place, it is crowded and you will be in a group with a guide (unless you discreetly step aside…), so be prepared!
Entrance fee: 50,000 pesos for foreigners (34,000 pesos for people over 60 and children aged 4 to 12). 
The cathedral is open every day from 9am to 5.40pm. 
History: This cathedral, carved out of the rock in 1954, is immersed in the depths of the earth over 8,500 km2 (and over 4 hectares in the open air). It is a feat that will leave you breathless. This cathedral is a major architectural work, a real temple with a sacred character in the middle of the salt mine, which was already being exploited long before colonization. In pre-Columbian times, the indigenous Muiscas used the salt from this deposit to create their currency, the fruit of their success and power.
Honda
If you are travelling from Bogotá to the coffee region, we recommend a stop in Honda, a beautiful colonial village that is still protected from mass tourism. Honda is located in the north of the department of Tolima.
To be visited:
Here you can discover many historical places such as the Navarro Bridge, the street of Las Trampas and the Cathedral of Our Lady of the Rosario. There are many hotels and the friendliness of its people make this a really attractive destination. Honda is surrounded by a series of mountains and hills, among them the Meseta de los Palacios and Cerro Caco in Pelota, where you can enjoy great views of the city.
The landscapes are typical of dry climates and you will find a wide variety of wildlife, including many birds.
Suesca
Suesca, or "the rock of the birds" in the Chibcha language, is a paradise for climbing fans. The village of Suesca is built at the foot of a sandstone cliff. On weekends you will find many bogotanos who come here especially to practice this sport in beautiful high mountain landscapes.
Warning: It's very busy at the weekend and this type of climbing is not for beginners!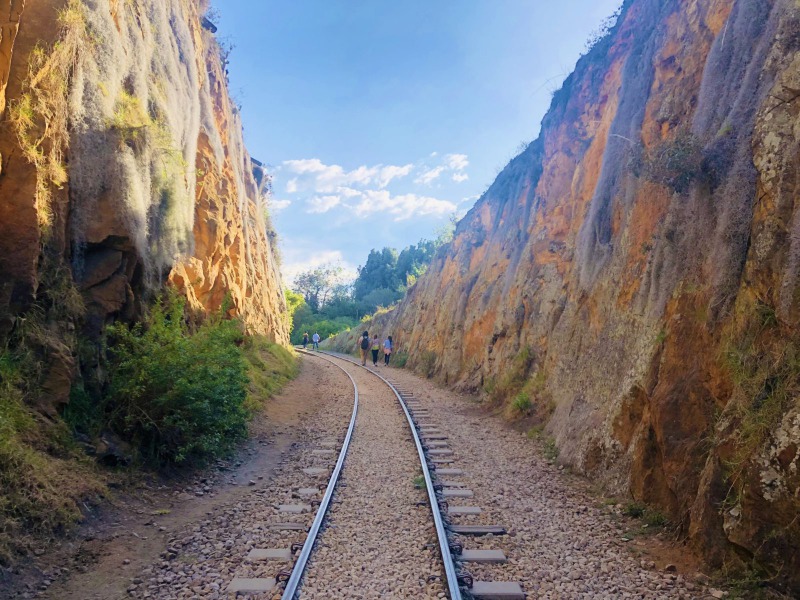 What to do around Bogota? Colombia Adventure Activities
Here is our list of the best activities if you want to do some sightseeing around Bogota. Contact the Colombia Adventure team for more information and/or booking ([email protected])
Zipaquira and Guatavita lagoon excursion
This excursion to the Salt Cathedral and the sacred lagoon of Guatavita is perfect if you have a whole day and want to discover the surroundings of Bogota. Accompanied by a local English or French speaking guide, you will start with a 1.5 hour walk in the morning to discover the emerald lagoon and its connection to the legend of El Dorado. The territory of the lagoon is a sacred land for the local communities. In the afternoon, discover the sublime salt cathedral, built in an underground mine. It will be an equally impressive but completely different sight: Allow 1 day for this excursion. You can also do the excursion to Zipaquira of only ½ day.
Hot Air Balloon Tour around Bogota
You will leave for the Club Vacacional Santa Ana and then Tocaima, a small country village where you will enjoy a unique ballooning experience. For 30 to 40 minutes you will observe the beautiful landscapes of the Andean mountains from the sky. Allow ½ day for this excursion.
Siecha lagoon – Chingaza
The Siecha Lagoons are three beautiful lagoons located in the Chingaza National Park. On a mountain hike, you will discover the ecosystems of Paramos in lunar settings, surrounded by cliffs, frailejones and wild animals. This is a 2-3 hour hike and a full day excursion into the wilderness. The difficulty of the trek is medium, without major difficulties.
You will be accompanied by a guide who will explain all there is to know about this unique wilderness and we will provide you with private transport to and from your hotel.
On the road to Choachi
Another tourist activity around Bogotá that is enjoyable and not well known is the discovery of Choachi and its surroundings! This excursion to the village of Choachi starts with a visit to the Virgin Guadalupe, which will offer you a panoramic view of Bogota. You will then be able to walk in the paramo of Matarredonda for 2 hours and discover the richness of the local fauna and flora.
If you prefer, you can also visit the Chorrera waterfall, the largest in Colombia! Enjoy a delicious lunch in a typical finca before visiting the Ubaque lake in the afternoon. This is a fairly non-touristy excursion where you will feel privileged.  
Contact a Travel Agent now
Design the trip of your dreams today with one of our country experts: