History of Bogota
The Bogotá region was originally inhabited by an indigenous people of the Muisca group. At the time, the Muiscas were agricultural people organized in centralized villages. They were the most important and advanced civilization in Latin America after the Incas and the Aztecs.
They lived by working the land, exploiting salt and gold mines, fields in which they excelled. They had many rituals using emeralds and other precious metals, which attracted the Spaniards in their quest for wealth and their desire to find El Dorado. Gonzalo Jiménez de Quesada founded the city of Santa Fé de Bogota in 1538 after a long period of struggle with the peoples there.
During the colonial period, the city was the capital of New Granada (a vice-royalty of the Spanish Crown) until 1810. In 1814, the liberator of northern South America, Simon Bolívar, marched to Bogotá and won the Battle of Boyaca in 1819, which gave the country its freedom. Bogotá became the capital of Gran Colombia.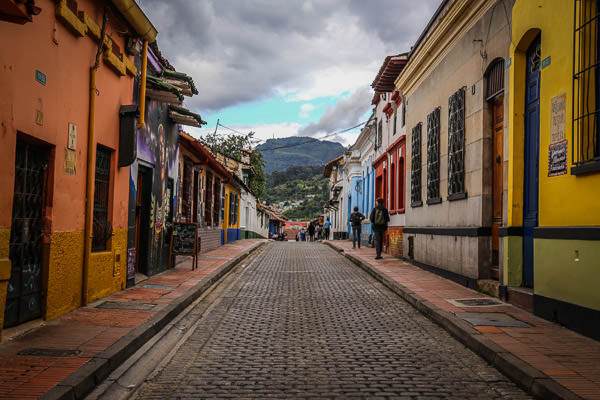 When to visit Bogota?
You can visit Bogotá all year round. The city has almost no alternating seasons with an annual average of between 7 and 20°C. In Bogotá, temperatures vary according to the amount of sunshine.
However, there is a little more rain between March/May and from October to November. It is important to know that in Bogotá you can often find all four seasons in one day.
How to get to Bogota?
Flights to Bogotá
Flying to Bogotá is a popular and efficient way to reach Colombia's captivating capital. With El Dorado International Airport as the country's main aviation hub, travelers from all over the world have easy access to this magnificent country. Numerous airlines operate direct flights to Bogotá from major cities around the world, making travel convenient for both international and domestic travellers. On arrival, visitors can discover the city's rich history, cultural diversity and impressive landscapes.
If you're planning to fly to Bogota, using the Kayak search engine is an excellent choice to make your trip easier. Kayak offers a smooth, efficient platform for finding the best flight options to suit your preferences and budget. With a wide range of airlines and routes at your fingertips, you can easily compare prices and schedules to choose the most convenient and affordable option.
Getting from the airport to the city center
There are 2 airports in Bogota: El Dorado International Airport which is the main gateway to Colombia and the national airport (Terminal Puente Aéreo). About 1 km separates them. They are connected by a free transit service. The national airport serves the national flights of the company Avianca.
To reach the city centre from the airport, there are several options:  
The quickest and easiest way is still by taxi. You'll easily find classic (yellow) cabs right outside the airport. Count 20,000 to 30,000 pesos for a ride to the center and 30min to 1h to reach the center depending on traffic density. 
Alternatively, you can book a private taxi in advance, through your hotel, travel agency or at counters within the airport compound. This will cost you more, however, but will guarantee you a cab. 
La formule la plus économique mais la plus longue et compliquée reste l'usage de transports publics. ATTENTION: à éviter si vous êtes chargé, avec de nombreux objets de valeurs et/ou si vous arrivez en heure de pointe (le matin vers 8h et le soir entre 17 et 19h). Le Transmilenio M89 passe devant la sortie de l'aéroport El Dorado. Il passe assez régulièrement et vous dépose soit près du centre soit au Portail El Dorado où vous pourrez prendre d'autres Transmilenio jusqu'à votre destination. Le trajet vous coûtera 2.400 pesos, mais il vous faudra acheter au préalable une carte pour 3.000 pesos. D'autres bus urbains passe par la sortie de l'aéroport comme par exemple le bus P500. 
Bus
From Bogotá's various bus terminals, you can access almost all of the country's major (and smaller) cities. There are several in the city, the Terminal de Transporte Salitre to go west, the Terminal Satélite del Norte, Portal Norte and the Terminal Satélite del Sur
How to get around Bogotá?
The Bus: There are 3 types of bus that run through Bogotá. The fastest is the Transmilenio, which has its own bus lanes and crosses the main avenues. To enter a Transmilenio station you need a rechargeable card (Mi llave) which costs 3,000 pesos and you have to pay 2,400 pesos per entry. Beware: during rush hour, the Transmilenio can be very congested and difficult to bear.
Another alternative is the SITP, a modern blue city bus that is more traditional and stops at specific bus stops. A good option that also works with the rechargeable card where each trip costs 2,000 pesos. However, it is difficult to know when the SITP will pass and some may take a long time to come.
The last option is the small bus "buseta" which can be paid in cash for the modest sum of 1,650 pesos and which stops where the users decide. All you have to do is press the stop button and the driver will stop. A practical bus because it passes quite regularly and it allows you to stop wherever you want on its route.  
Taxis: Taxis are everywhere in Bogotá, and you will always find one at any time. Yellow in colour, a minimum fare will cost you 4,400 pesos and 6,400 pesos at night, on weekends and holidays. Each taxi has a taximeter with a number that scrolls, this number represents a fare that you can check on a card hanging on the seat in front of you.
Cycling: Cycling is a pleasant way to visit the city, especially on Sundays as many avenues are closed to cars and turned into cycle paths. For the rest of the week, ciclovias have been built along more than 250km around the city.
Safety: Is Bogota a dangerous city?
The situation in the Colombian capital has improved significantly. The number of police officers and private security guards on the streets has greatly increased, which deters criminals. 
However, Bogotá remains a city where one must be vigilant, as in any large city in the world. It is important not to take your mobile phone or valuables out into the street at random, for example. 
At night, avoid walking alone in dark or quiet streets. Take a pre-booked taxi or Uber for 2/3€ and make sure you get home safely. 
Some areas should be avoided, such as the area around Candelaria or Caracas Avenue. The Zona T/Zona G/ Chico / Parque de la 93 / Chapinero alto areas are more "chic" and therefore safer. If you are attacked (increasingly rare), it is essential to give what you have without bargaining or resisting. Common sense is the key. 
Cultural events
Early February: Centro Festival in the Candelaria and other parts of the city to discover the musical diversity of Colombia. 
Mid-March, early April: Ibero-American Theater Festival.
Mid-April, early May: Bogotá International Book Fair.
Early July: Rock Al Parque festival (Simon Bolivar square).
July 20: Colombian Independence Day, with military parades through the main streets of the capital.
August 6 and 7: anniversary of the founding of Santa Fé de Bogotá with concerts and performances. The following day, a parade in memory of the Battle of Boyacá.
Mid-September: Bogotá's festival de Jazz al Parque .
Santé et équipement nécessaires pour visiter Bogotá
Tennis shoes, cold weather clothing, mackintosh, sun cream, sunglasses (especially for the Monserrate), umbrella. Beware of the altitude for people with heart and/or respiratory problems (2600m altitude).
How long can I stay in Bogota? 
Like many travelers you will probably start your trip in Bogota. Often travelers only stay a short time in the city before moving on to other destinations in Colombia. However, there are many things to do in the Bogotá area, and these are generally not very touristy destinations. If you have time, we recommend that you visit the surrounding national parks such as Sumapaz, Chingaza, Chicaqué and many others.
Contact a Travel Agent now
Design the trip of your dreams today with one of our country experts: