Do you love mountain landscapes, nature and above all history? 
The archaeological sites of San Agustin and Tierradentro are highly spiritual, surprising and absolutely beautiful places. Whether you are an archaeology buff or just curious, the San Agustin and Tierradentro region will leave you breathless in front of this totally preserved pre-Columbian wealth.
A trip back in time would not be a true journey without exploring the sublime Tatacoa Desert. Its lunar landscapes contrast with the rest of the region and you will be transported into an unexpected wild-west universe.
This article gives you our tips, our good plans, our most beautiful excursions in San Agustin, and its surroundings.
San Agustín in video :
What to do in San Agustín and its surroundings?
The San Agustin Park is more than worth a visit. For nature and history lovers, it is well worth the trip and is a must-see during your stay in Colombia. The park is a UNESCO World Heritage Site and was created in 1935.
In a landscape of green valleys, you will find more than 500 imposing pre-Columbian statues (some more than 7 metres high!) and sacred tombs. 
Taxi from San Agustin: 5,000 pesos
Minibus: 1.200 pesos 
By foot: 45 minutes
Open every day from 8am to 5pm. Admission: 25,000 pesos for adults, 10,000 pesos for students.
La Pelota and Chaquira 
Here are two other must-see sites during your stay in San Agustin to further explore the pre-Columbian relics still preserved from mass tourism. 
You will find divinities carved into the mountain overlooking the Magdalena River and even polychrome statues in this region.
How to get there? Our advice: You can reach La Pelota and Chaquira on horseback, on foot or by Jeep (see our section: What to do).
Looking for more during your stay in San Agustin?
The San Agustin region is a major coffee producer and is ideal for visiting haciendas that are open to the public. You can take a jeep or horseback tour of the area to explore and taste the delicious local coffee (see our What to do section).
Fancy some extreme sports? The Magdalena River also offers a variety of sports activities such as rafting and abseiling!
Tierradentro
Explore this unique archaeological site, declared a UNESCO cultural heritage site, and discover its many hypogeum tombs.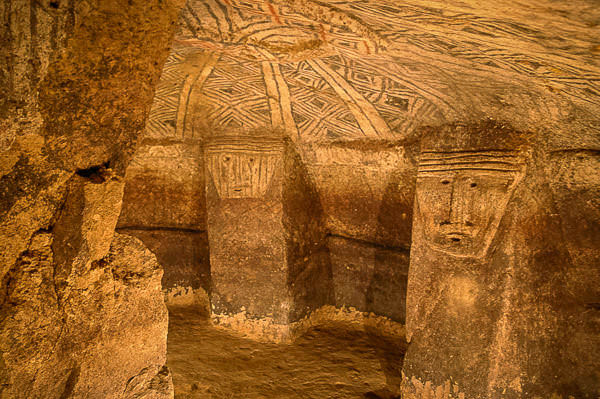 El Aguacate
For a hike in the heart of the Andean mountains, in search of sacred archaeological sites, this is the place to go! El Aguacate offers a spectacular view of the entire valley and the beautiful village of Inzá. You will also find many archaeological tombs. For us, this is a place that is worth a visit!
Warning: The site is a 2-hour walk from Tierradentro. The level of this hike is high and you should allow about 4 hours of walking.
San Andres de Pisimbala
This municipality with its atypical charm is the main one in the Tierradentro region. In San Andres de Pisimbala you will find a small haven of peace characterized by white-walled and thatched buildings that have retained their original charm for an authentic experience.
Alto de San Andrés et Alto de Segovia
In the Alto de Segovia, you will find more than 30 tombs still decorated, many hypogeums, one of which has remained completely intact since its discovery, with its funerary furniture and urns. The spectacle is impressive and unique.
Our opinion : We also recommend a visit to the Alto de San Andrés, another marvelous site in the Tierradentro region, full of hypogeums and well worth a visit.
An amazing ecosystem, beautiful landscapes.
Do you like desert landscapes and have not been able to visit the La Guajira desert? The Tatacoa Desert is absolutely spectacularly beautiful and worth a visit for a 1 or 2 day stay during your trip to southern Colombia. Between ochre, grey and green colours, its colourful wild west landscapes give it the appearance of an arid desert area, but the most surprising thing is that Tatacoa is in fact a tropical dry forest.
What to see in the Tatacoa desert? You will find a red desert and a grey desert in Tatacoa, with labyrinths of small canyons formed by erosion. A surprising spectacle and an unusual ecosystem.
In the desert you can also swim in natural pools in the middle of a lunar landscape. At night you can visit the astronomical observatory which has excellent facilities for observing the stars and planets.
Good to know : The Tatacoa Desert is located in the north of the department of Huila. It is considered the second driest area in Colombia at 1 hour from Neiva and 5h30 from San Agustin. The temperature is 13°C at night and 40°C during the day.
Since it is a desert, there are very few animals and vegetation. Among the few animals that can be found there are eagles, lizards, scorpions, spiders, turtles and rodents.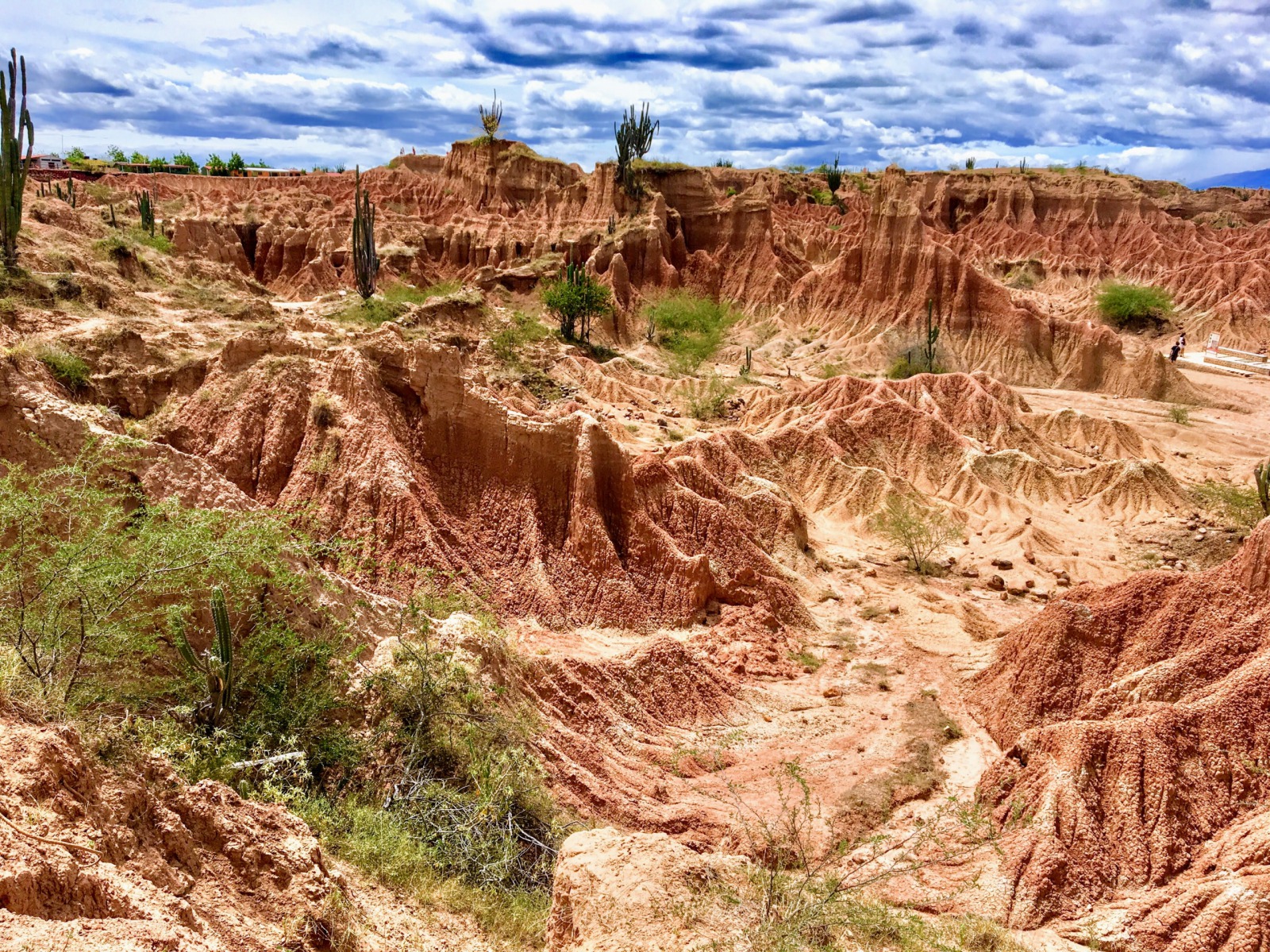 Things to do in San Agustin and its surroundings ? Aventure Colombia activities
Hiking, biking, jeep tours … discover our most beautiful activities to do in the San Agustin area ! Contact Aventure Colombia for more information and/or booking ([email protected])
Jeep tour around San Agustin
This San Agustin Jeep tour will take you to the Estrecho of the Magdalena River, to San Jose de Isnos and through the sugar cane fields. You will also have the chance to visit a trapiche, a place where panela is made by hand. 
In the afternoon, visit the archaeological sites Alto de los Ídolos and Alto de las Piedras. Two superb and still little known sites. On the way back, you will discover the superb Mortino waterfall.
La Pelota and Chaquira
Horseback riding in Chaquira : The San Agustin region is ideal for horseback riding. Accompanied by a local guide, you will ride through the countryside to the beautiful site of La Pelota where the last coloured statues of the country can be seen. You will then go to Chaquira, another magical archaeological site. Count on a ½ day excursion to visit in an original way sites that are still little explored.
Chaquira Hike: This 2.5 hour hike will take you to the relics of La Pelota and the magical site of La Chaquira, with a splendid view of the Magdalena River canyon. This ½ day excursion is a mix of archaeological discovery and a walk in the heart of a luxuriant nature.
Visit to a coffee finca
Visiting a coffee finca near San Agustin is a beautiful and worthwhile experience as the department of Huila has become the leading coffee producing department in Colombia. 
This is the perfect opportunity to visit a producer farm where the whole process is explained to you in a green landscape, while sitting down to a delicious coffee with the locals.
3 Chorros waterfall
Horseback riding in San Agustin : This horseback ride will take you to the Andean highlands around San Agustin.  You will then walk down to the 3 chorros waterfall for a picnic. This is a little known excursion and a total immersion in the sublime landscapes of the region. 
Allow 5 hours of riding
1h30 walk. 
Hike in the surroundings of San Agustin : This 4 hour hike on the heights of San Agustin will take you to the 3 chorros waterfall, named after its 3 parallel falls. This walk along the pastures will offer you a splendid view on the surrounding paramos. Another authentic and little known excursion, for a beautiful half day in the middle of nature.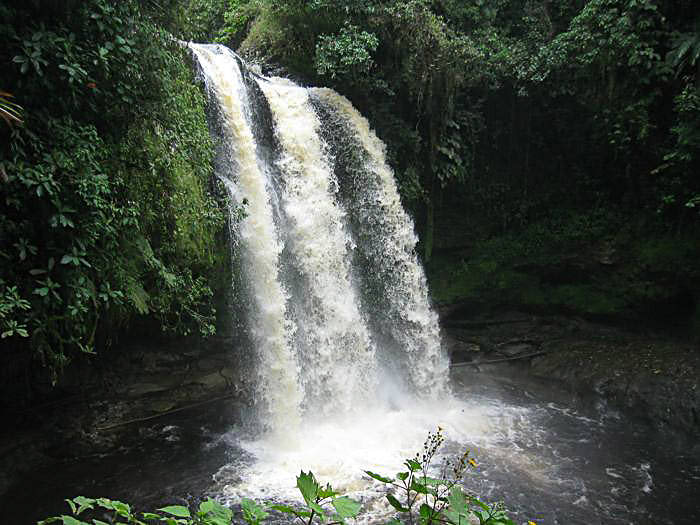 Hiking Magdalena Canyon
Cette randonnée dans la région de San Agustin d'une journée, vous fera passer de la cordillère orientale à la cordillère centrale en franchissant le fleuve Magdalena. Cette balade de 4h vous emmènera au site archéologique "Alto de los Idolos", en descendant au fond du splendide canyon du fleuve Magdalena. Vous remonterez ensuite au village de San Jose de Isnos. 
Why do this tour? This is a well rounded and unusual day trip, allowing you to see a variety of things in unusual settings and places still untouched by mass tourism.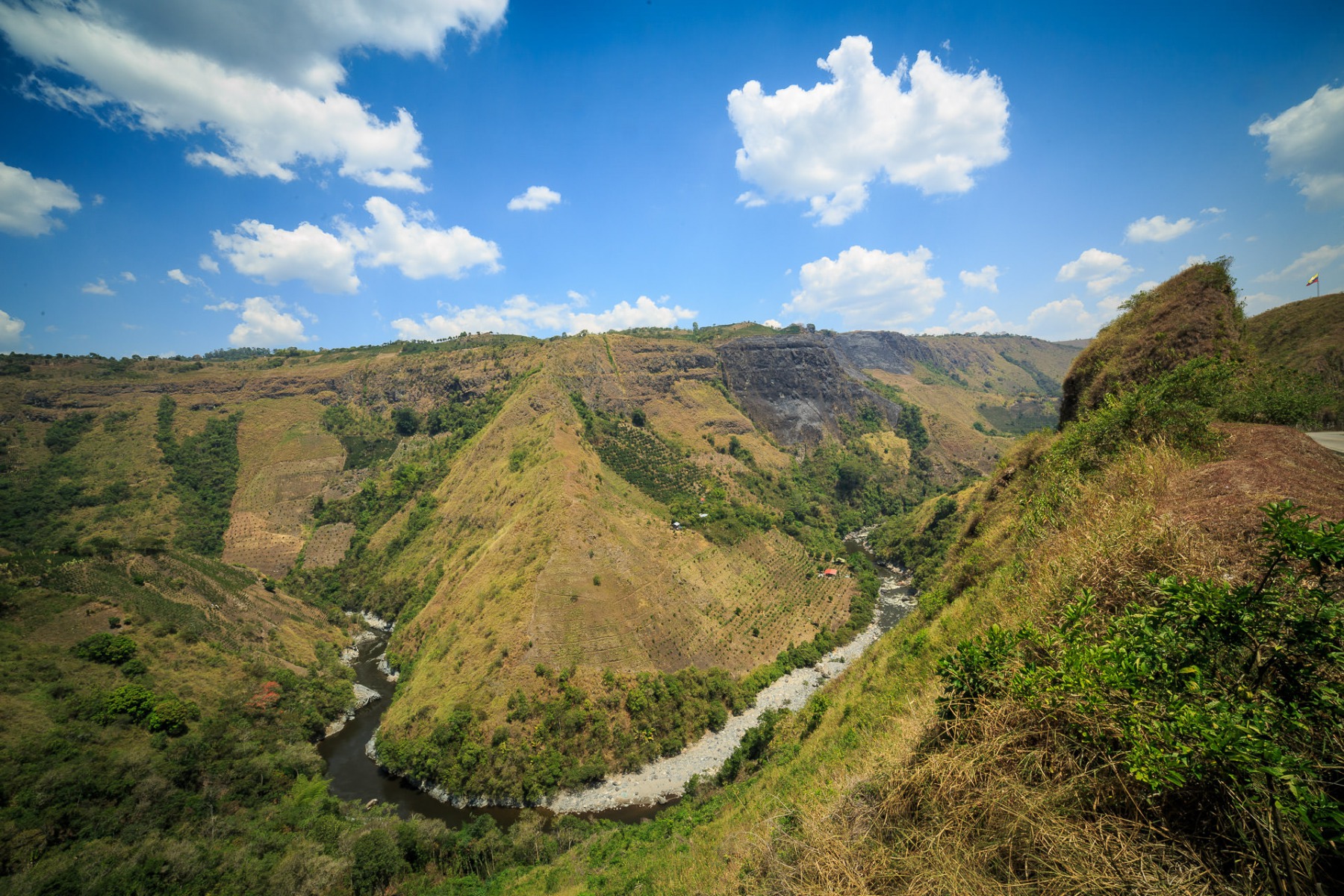 Rafting on the Magdalena River
Get ready for an 11 km rafting trip down the Magdalena River, a river plunged into a deep canyon. The spectacle is absolutely impressive. If you are a fan of extreme sports in improbable settings, this trip is for you! You will appreciate the quality of its rapids level II and III as well as the wild beauty of the landscape.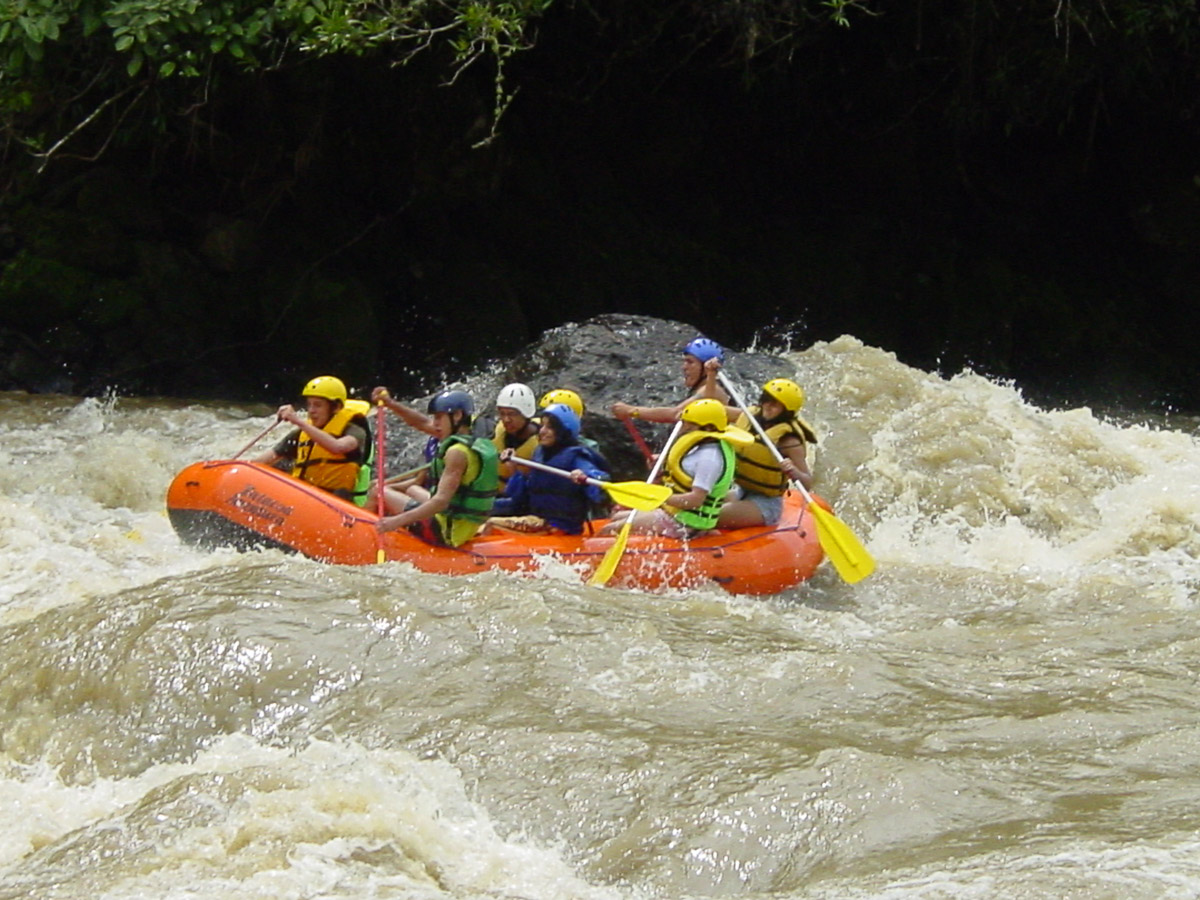 Trek PNN los Guacharos 3 days
The trek en los Guacharos is a beautiful 3 day trek in a little frequented, wild and authentic area. You will be amazed by the magnificent landscapes typical of the region nestled between the departments of Huila and Caqueta. Discover the beautiful Los Guacharos cave by venturing into a virgin forest and breathtaking Andean landscapes! Get ready for an extraordinary trek that has not yet been explored. 
Hiking in the Aguacate
The Tierradentro region is characterized by the wild beauty of its landscapes. This hike will give you the opportunity to appreciate the strength and extent of this Andean area, a region full of treasures and sublime mountain landscapes. Go for a 4 hour hike in the aguacate region, not far from San Agustin and accompanied by a local guide. 
Tatacoa, San Agustin, Tierradentro In addition to these atypical excursions, Aventure Colombia offers more classic tours and excursions to discover San Agustin's richness Tierradentro and the Tatacoa desert.
San Agustín : Restaurants
DONDE RICHARD
An institution recommended for the quality of its service and the quality of its cuisine typical of the region.
Address : Calle 5 23-45 | Via al parque arqueológico
Opening days and hours : Mon – Sun : 11am – 10pm
Price : Between $20,000 and $40,000 pesos
TOMATO
A vegetarian restaurant that combines taste, quality, quantity and reasonable prices.
Address: calle 5 #16-04, San Agustin
Days and hours of operation: Thu – Mon: 8am – 3pm
Price: dishes between $12,000 and $20,000 pesos
ANDERS AT THE PARRILLA
Traditional cuisine offering the daily menu or a la carte dishes in a simple but warm, busy setting. Specialty: "Asado Huilense".
Address: calle 5 no. 15-67, via the archaeological park
Opening days and times: Thu – Mon: 11:30 a.m. – 10:30 p.m.
Price: dishes between $16,000 and $30,000 pesos
ALTOS DE YERBABUENA
Family restaurant where salads and sauces are prepared with ingredients grown by the establishment.
Address: 1.5km, via the archaeological park
Opening days and hours: Tue – Sun: 10:00 a.m. – 8:00 p.m.
Pricing: Dishes between $28,000 and $40,000 pesos
FONTE CAFE
Cafe/restaurant, which offers regional a la carte dishes and excellent breakfasts.
Address: Carrera 13 No. 3 -63, San Agustin
Days and Hours of Operation: Mon – Sun: 8:00 a.m. – 9:30 p.m.
Prices: Dishes ranging from $20,000 – $40,000 pesos
Contact a Travel Agent now
Design the trip of your dreams today with one of our country experts: