Are you going to visit Medellin but want to get to know the surrounding area? This is a very good idea because the Antioquia region is a nest of small colonial villages full of charm and exceptional natural landscapes.
In this article you will find all there is to discover around Medellin for a day trip or a multi-day getaway. Whether you're into camping, hiking, small villages or just want to enjoy some good coffee in the green plains, the Antioquia region offers many activities that are worth a visit.  
Antioquia: The essentials
Medellin: a glimpse of the city of eternal spring Santa Fe de Antioquia: The former capital of Antioquia is a jewel of the colonial era Guatapé and the Penol Rock: the ideal place to admire the beautiful landscapes of Antioquia, to get some height, and to stroll through the colourful streets of the village Jerico: a little known village and a journey into the colonial past of Colombia Jardin: a village of a thousand colours, surrounded by lush nature that is worth the trip Bridge of the West: the suspension bridge of the Cauca River Rio Claro Nature Reserve: for total immersion in the wild nature of the region
What to do around Medellin?
Santa Fé de Antioquia
From Medellin we recommend a day trip to this beautiful colonial village, former capital of the Antioquia region (until 1826). Santa Fé has magnificent architecture that will delight lovers of colonial architecture. There are many cobbled streets surrounded by white houses with carved wooden balconies. The city is so beautiful that it has been declared a national heritage site! You can get to Santa Fe from the north terminal of Medellin by busetas (small bus) for 15,000 pesos, by collective taxi for 17,000 pesos or by regular bus for 11,000 pesos. Journey time from Medellin: 2 hours
Guatapé and the Peñol rock
Guatapé and the Peñol rock are absolutely essential if you go to Medellin. It will take you a good ½ day to visit the sites, but they are well worth the trip. The Peñol Rock is 200m high and from its top you have an absolutely magnificent view of the dam and the surrounding area. The rock is a 20 minute walk from the village of Guatapé, which is well worth a visit. We advise you to have lunch there and to stroll through the cobbled streets, which are very popular for the colourful friezes in high relief on the walls of the houses. These friezes refer to the customs and legends of the region.
From Medellin, buses leave every 10 minutes from the North Terminal to Guatapé. You can ask the driver to drop you off at the rock or the village.
Bus Medellin – Guatapé : between 10.000 and 20.000 pesos
Reaching the village of Guatapé from the rock 
by bus : 5.000 pesos 
by tuk-tuk chivas: 15,000 pesos
Entrance to the rock: 18,000 pesos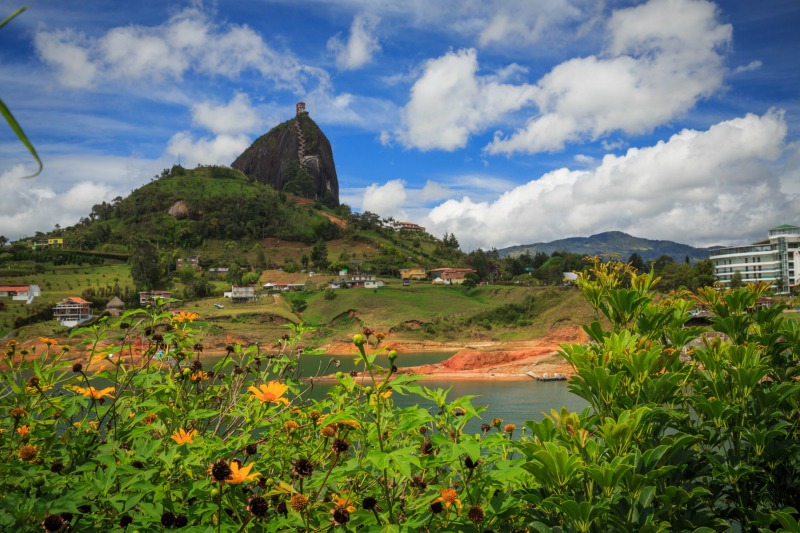 Jérico
Jérico is not a village that is well known to tourists, yet it is a village that has its own charm, with its small colonial houses. Located south of Medellín, it is a typical small village in the Antioquia countryside known for its handmade shoulder bags (Carrieles) and the leatherwork for which it is nationally renowned. If you have time, take a day trip to this quiet village.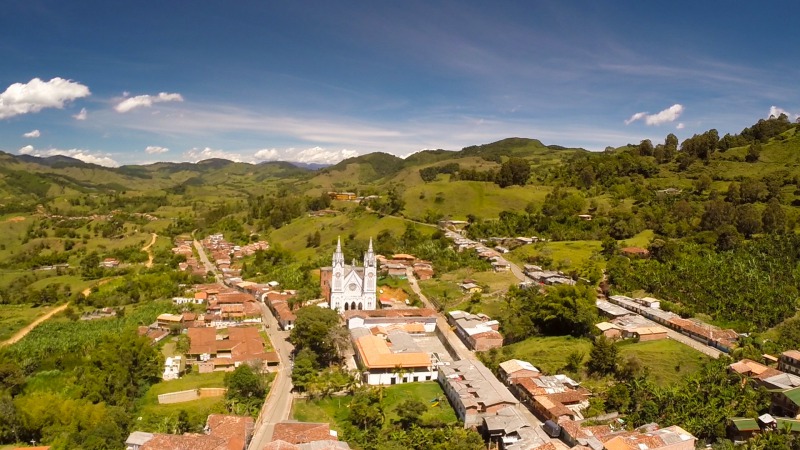 Jardin
It is for us a favourite village in the Antioquia region. If you like colonial villages and are in love with nature, we advise you to spend 1 or 2 days in Jardin. Located 138 km from Medellín, this small village is decorated with coffee and banana plantations. Its magnificent main square, classified as a historical monument, is full of flowers and surrounded by white houses with flowered balconies. An enchanting sight that can be seen in every street.
It is a quiet and friendly village with beautiful sites such as La Cueva del Esplendor, a splendid cave with a beautiful waterfall.
From Medellin, it is a 3-hour journey from the South Terminal.
Bus fare: about 20,000 pesos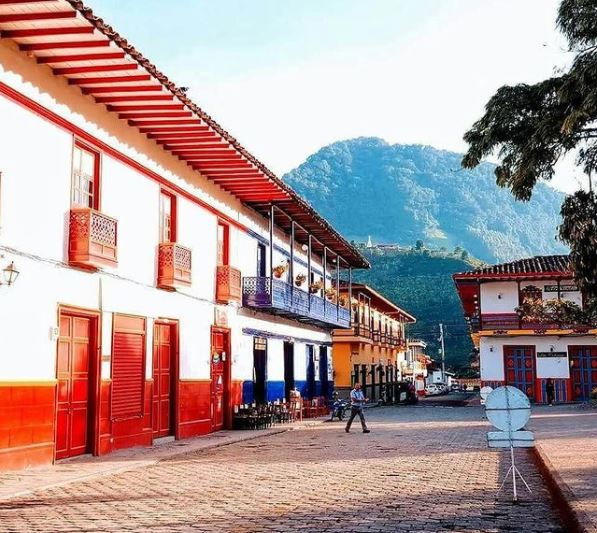 The Western Bridge
For a little atypical escapade, the suspension bridge of the Occident is one of the interesting and not very touristy activities of the region. It is 291 metres long, made of wooden slats, and offers a splendid view of the Cauca River, which you can float down, or see the people passing underneath you. It is located west of Medellín, on the way to San Jeronimo or Sopetrán, and was built between 1887 and 1895. 
Natural reserve del Rio Claro
For a camping holiday in a lush natural setting, we strongly recommend a visit to this beautiful nature reserve of over 650 hectares. Its vegetation is characterized by tropical rainforest with a beautiful green forest, on the edge of the crystal clear river. There are also canyons, making Rio Claro a great place for nature sports in the breathtaking scenery. You can camp in the reserve and enjoy hiking, canyoning and other sports activities. It is a 3 hour drive from Medellin's North Terminal.
Don't forget your swimming costume and sun cream! 
Price Medellín – Rio claro by bus: 25-30.000 pesos.
What to do around Medellín? Aventure Colombia Activities
Coffee tour, discovery of colonial villages, hiking, caves and waterfalls… discover our list of activities to do around Medellin! Contact Aventure Colombia for more information and/or reservation. ([email protected])
Coffe tour – Medellín
On this tour you will discover the real coffee culture by spending a day in a traditional Colombian coffee farm. Don Octavio and his family produce their own coffee and will give you the opportunity to learn the techniques of making coffee from the plant to the cup. This is a real family experience, a glimpse into the daily life of a traditional coffee farmer.
Discovery of the West
During a 6-hour excursion, you will discover the villages of Santa Fe de Antioquia (National Historic Heritage), Sopetran and San Jeronimo. This is a unique opportunity to discover the most beautiful colonial villages of Antioquia, accompanied by a local guide who will take you to places you would not have thought of going.
Guatapé Tower and the Peñol
This excursion to Guatapé will take you to the famous El Peñol rock where, from the top of its steps, you will discover a landscape of uncommon lagoons. You will then visit the village of Guatapé, a colourful and colonial village classified as a natural and environmental heritage site. Count on ½ day or 1 day excursion.
Jerico and the walk to Las Nubes
Jerico is a typical Antioquian village, known for its unique architectural style, with its colourful finca-style houses, its rich heritage and its religious heritage. This day trip to Jerico and Las Nubes will allow you to stroll through the streets of the town to discover hidden treasures. You will then go for a 3 hour hike in the natural park "Las Nubes" in beautiful wild landscapes overlooking Jerico. Nestled at an altitude of 2,055m, discover the region's shades of green, exotic trees and wild animals like monkeys.
Jardin and the Cueva del Esplendor
This tour is not like the others. You start with a beautiful early morning hike to the Cueva del Esplendor accompanied by a local guide. On the way, you will discover the typical landscapes of the region, between waterfalls and rivers. You will finish by arriving at the Cueva, an impressive open-air cave with a waterfall running through it. Take a swim and enjoy these magical landscapes. The walk to the Cueva del Esplendor takes about 10 km.
Hiking to the Cueva de los Guacharos
Accompanied by a local guide, head for the Cueva de los Guacharos, named after the birds that live in this beautiful cave. You will pass by the La Salada river located 5km from Jardin, but also by the Antioquia rainforest to end up at the cave for a well deserved refreshing bath! In the afternoon, reach the "Angel's Leap", a natural waterfall with a vertical drop of 50 meters! Count 15 km for this hike to the Cueva de los Guacharos.
Jardin, ANTIOQUIA
Restaurants :
LA ARGELIA Located a few kilometres from the centre of Jardin, La Argelia is the restaurant of reference for eating the village's speciality: trout. The restaurant also has a trapiche and a molienda (only open at weekends) where you can see how panela is made. Please note that the restaurant is closed at night. Address: Km 1 Vereda La Salada Opening days and times: Mon – Tue: 9am – 6pm Prices: dishes between $17,000 and $25,000
LOS COLORES You can enjoy all the typical dishes of the Antioquia region in this traditional restaurant located in the centre of Jardin, a few metres from the main park. Address: Carrera 5 # 11-11, Jardín Opening days and times: Mon/Tues/Thurs: 7am – 7pm, Wed: 7am – 6pm, Fri: 7am – 9pm, Sat/Sun: 7am – 10pm Price: dishes between 20,000 and 35,000
Coffee shop :
CAFÉ MACANAS Come and enjoy one of the best coffees in Jardin in a beautiful flowered courtyard. The café is located in the main square of Jardin. Pastry and sandwiches. Address: Carrera 5 # 9 – 43, Parque Principal, Jardin Opening days and times: Mon – Sun: 8am – 8pm
Contact a Travel Agent now
Design the trip of your dreams today with one of our country experts: