Fernando Botero, the most famous Colombian artist!
For almost 70 years, Colombian artist Fernando Botero has been reinventing society and the history of Colombia with his works, which are lavish, often humorous and sometimes denouncing. Sometimes a painter, sometimes a sculptor, Botero is one of Latin America's best-known artists. His sculptures are now part of the urban landscape of major international cities and his work is exhibited in the most important art museums, including the Botero Museum in Bogotá, the capital of Colombia. A small glimpse of the places where you can admire the work of the Colombian master.
Fernando Botero, mini biography
Born in 1932 in Medellín, in the department of Antioquia, Fernando Botero grew up without his father, who died too soon. He completed his secondary education at the city's Colegio Bolivariano, from which he was quickly expelled for writing an admiring article about Picasso and his nonconformity in art. At the age of twelve, his uncle, a great fan of bullfighting, sent him to a bullfighting school in Medellín. This two-year experience will be a great source of inspiration for his first drawings and future paintings. At the age of 19, he exhibited his work alone for the first time in Bogotá at the Leo Matiz Gallery. Fernando Botero will not stop living between different big cities like Mexico City, Bogota, New York, Paris, Madrid and in his painting you will find several influences of great masters of Spanish and Italian painting. Fernando Botero's works are instantly recognizable by the imposing volumetric forms of his subjects.   
"My work is inspired by many things: Etruscan art, pre-Columbian art, popular art. (…) "In fact, volume allows us to express a certain form of sensuality, of plasticity. (Euronews interview – 24 July 2015)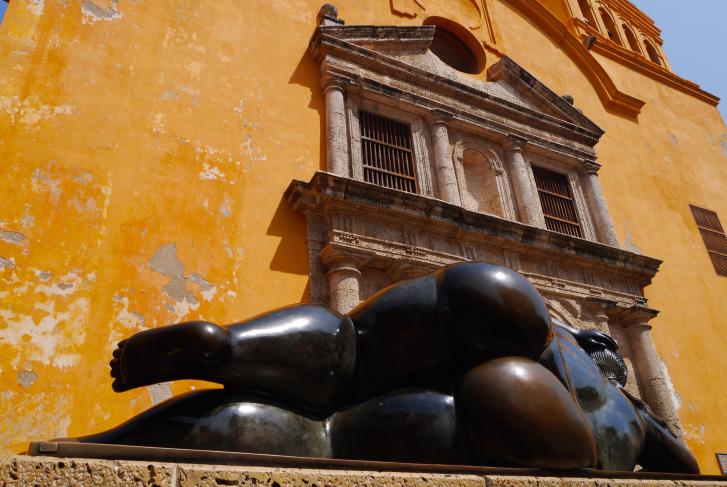 Where can you see Botero's work in Colombia?
1. Botero Museum of Bogotá
A beautiful collection of Fernando Botero's works is on display at the museum dedicated to him in Bogotá, in the heart of the historic La Candelaria neighborhood. Following the artist's donation of 123 of his works and other pieces by international artists to the Banco de la República, the Botero Museum was inaugurated in 2000. Admission is free and therefore worth a visit. On the one hand, because the exhibition is very pleasant and is structured around a flowery patio, on the other hand because you can admire the most beautiful works of the Colombian master but also discover paintings by Dali, Miro, Picasso…
2. Museum of Antioquia and Plaza Botero – Medellín
Born in Medellín, Fernando Botero has bequeathed many of his works to the Museo de la Ciudad. Twenty-nine bronze sculptures by the artist can be seen at Botero Square, in front of the Museum of Antioquia. These works were created in his studio in Pietrasanta, Italy, and are regularly restored by the museum. It is during a visit to the Museum of Antioquia that you will be able to discover the paintings in the room dedicated to Fernando Botero and named after his son, Pedrito, who died in a car accident at the age of 4. In total the museum has 125 works by the Colombian artist.
3. Santo Domingo Square – Cartagena
Walking through the sublime Cartagena de Indias you will discover in Santo Domingo Square, in front of the church of the same name, one of Fernando Botero's sculptures entitled "Reclining Woman". If you have the means, you can also rent the house of Lina Botero, his daughter in the heart of the colonial city. An old colonial house with 10 rooms, pool, patio, tastefully furnished. http://www.casadeindias.info/es-es/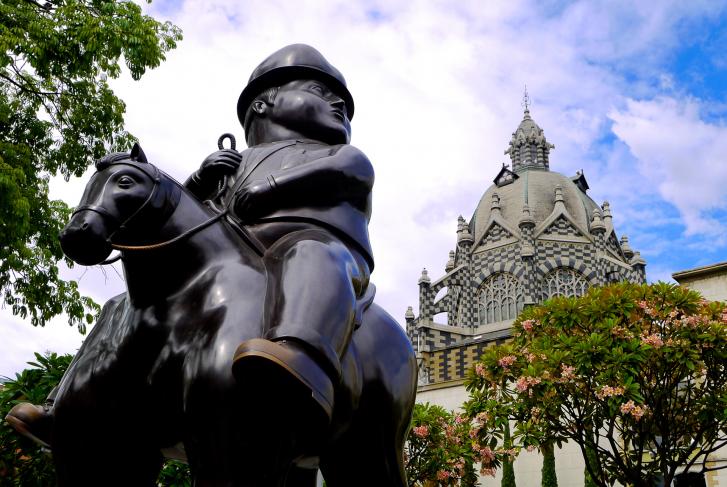 Where to see Botero's work in the world?
1. Exhibition "Botero, dialogue with Picasso", Aix en Provence
This exhibition presents the rich production of the Colombian master from a new angle through the prism of his artistic and cultural affinity with Pablo Picasso. From 24 November 2017 to 11 March 2018, you can discover the exhibition "Botero, dialogue with Picasso" at the Hôtel de Caumont in Aix-en-Provence.
2. Open Art" exhibition, Munich
On the occasion of its 85th anniversary, Thomas Modern Gallery presents an exhibition of works by Colombian master Fernando Botero in Arte Abierto. Paintings, drawings and sculptures from more than 3 decades will be presented, offering an impressive overview of Botero's inimitable artistic work.
September 8 to November 4, 2017, Thomas Modern Gallery, Türkenstrasse 16 Munich, 80333, Germany
3. As I walked through Barcelona, New York, Yerevan…
"Woman smoking", "Statue of the Roman Warrior", "Cat" in Tamanyan str. 3, Yerevan, Armenia…
"Cat" on Rambla del Raval, Barcelona, Spain.
"Woman with a Mirror", Plaza Colón, Madrid, Spain.
"Woman with Fruit", Heumarkt 8, Bamberg, Germany
"Parajo" Singapore, 6 Battery Rd, Singapore
"Man on Horse", Jerusalem Museum Garden, Israel.
Aventure Colombia offers you the visit of the Botero Museum during your 3 days/2 nights stay in Bogotá.
Do not hesitate to contact our travel advisors in this form.