Barichara and the department of Santander in video :
Santander is a region privileged by nature. Its landscapes range from fertile plains to mountains and valleys, passing through caves and rivers. Santander is a paradise for lovers of adventure and extreme sports, but also for lovers of history, with villages such as Barichara or Girón, living witnesses of the colonial era.
Things to do in Santander?
We have put together our favorites, our best activities and our professional advice so that you can prepare your stay in Barichara and Santander as well as possible.
Barichara
The most beautiful village in Colombia… the ideal place to stroll through the cobbled streets in a peaceful village atmosphere. Barichara has been a national heritage site since 1975, its heritage and stone architecture, its churches and cemetery, make it an original and unique village.
For us, this is a favourite village, a must if you are doing a tour to the north from Bogota via Villa de Leyva.  
Did you know? Perched on the top of the Suarez River canyon, Barichara offers a privileged view of the region and an almost perfect climate. The town has remained completely intact since its foundation in 1705.
Our expert advice: We invite you to discover on a walking tour the craftsmen's workshops for which the town is famous, particularly the stone cutters, the fig work or the handmade cigar factories. You can also stop off at the Suarez viewpoint to admire the view of the river of the same name flowing at the bottom of the canyon.
You can also stop off at the Suarez viewpoint to admire the view of the river of the same name flowing through the canyon.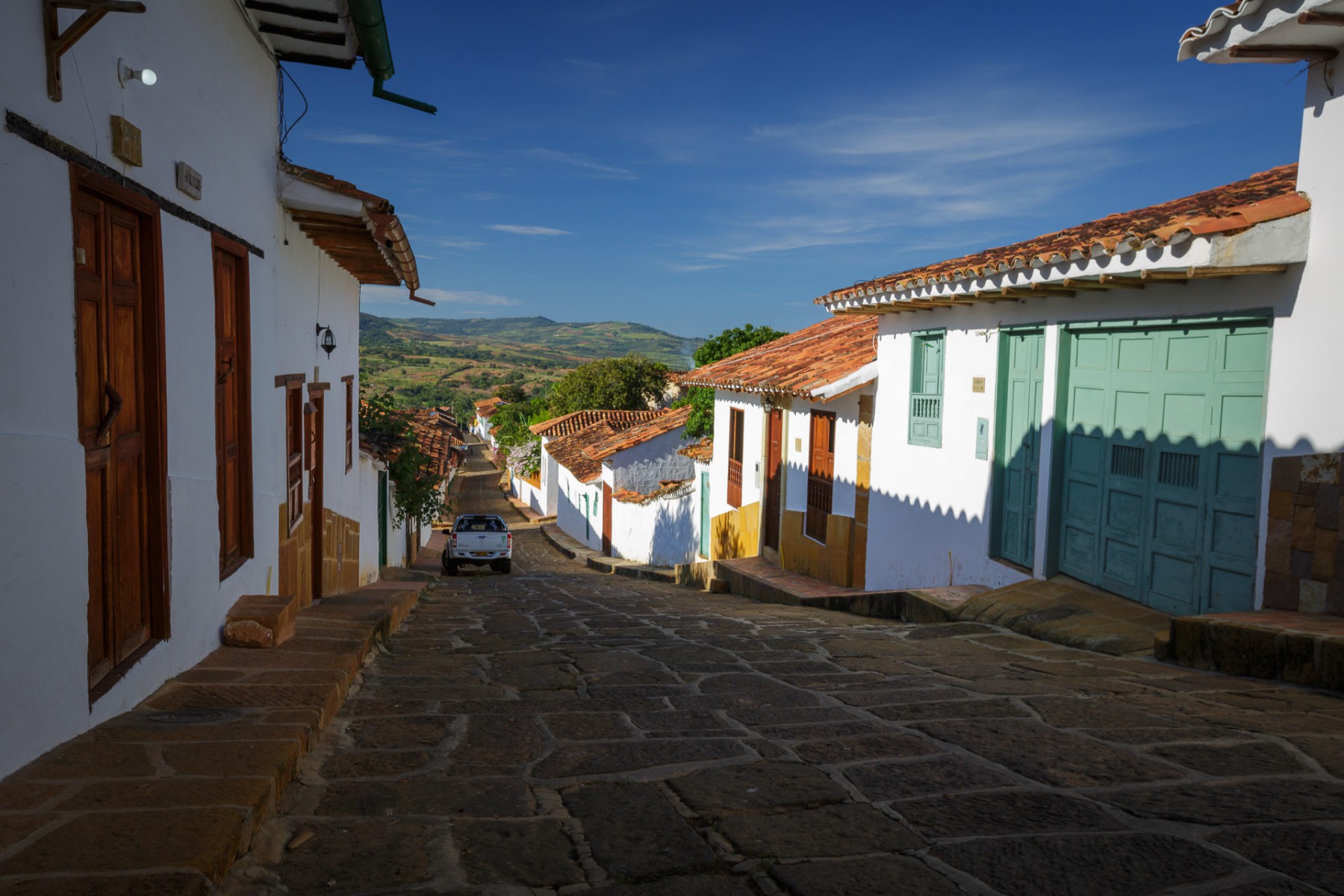 Guane
The Royal Colonization Trail will take you from Barichara to the small colonial village of Guane. It is a 9km paved path that you can walk in about two hours. Once in Guane, a visit to the archaeological and paleontological museum is a must, to admire fossils and vestiges of the indigenous civilisation.
Good to know: Other trails can also be walked on old Indian paths, from the village of Cabrera or the Chicamocha canyon.
San Gil
After a stay in Barichara, it is the ideal stopover for lovers of extreme sports and thrills in breathtaking landscapes!
This city, bordered by the Fonce River, is the main starting point for excursions. Its surroundings offer many activities: Gallineral Park, which is located along the Fonce, is the most emblematic site of the city where you can do many sports activities, see exotic animals, enjoy restaurants and various paths that allow you to take full advantage of its coolness and idyllic setting.
What else to do around San Gil?
You can also go paragliding in the Chicamocha Canyon, where the conditions are ideal and the view is magnificent.
Canyoning, abseiling and caving are other activities you can do in the many caves and waterfalls in the area (Cueva de la Vaca, near Curiti; Cueva del Indio near Paramo; la Antigua).
It is also possible to go rafting, on the Fonce or Suarez rivers, or even on the Chicamocha.
Chicamocha Canyon
Close to Barichara, the Chicamocha Canyon is for us an unmissable visual spectacle.
Here you will find the Chicamocha National Park, which offers many sporting activities in the heart of the wilderness.
Note: you can also cross the canyon from end to end by cable car. Opened in 2009, it is 6.3 km long. This will take you to the Mesa de los Santos, a high plateau with a view of magnificent landscapes, which is well worth a visit.
Did you know that? The river of the same name flows through it as a result of geological movement. At about 2 km deep, it is deeper than the Colorado Canyon and is about 22.7 km long.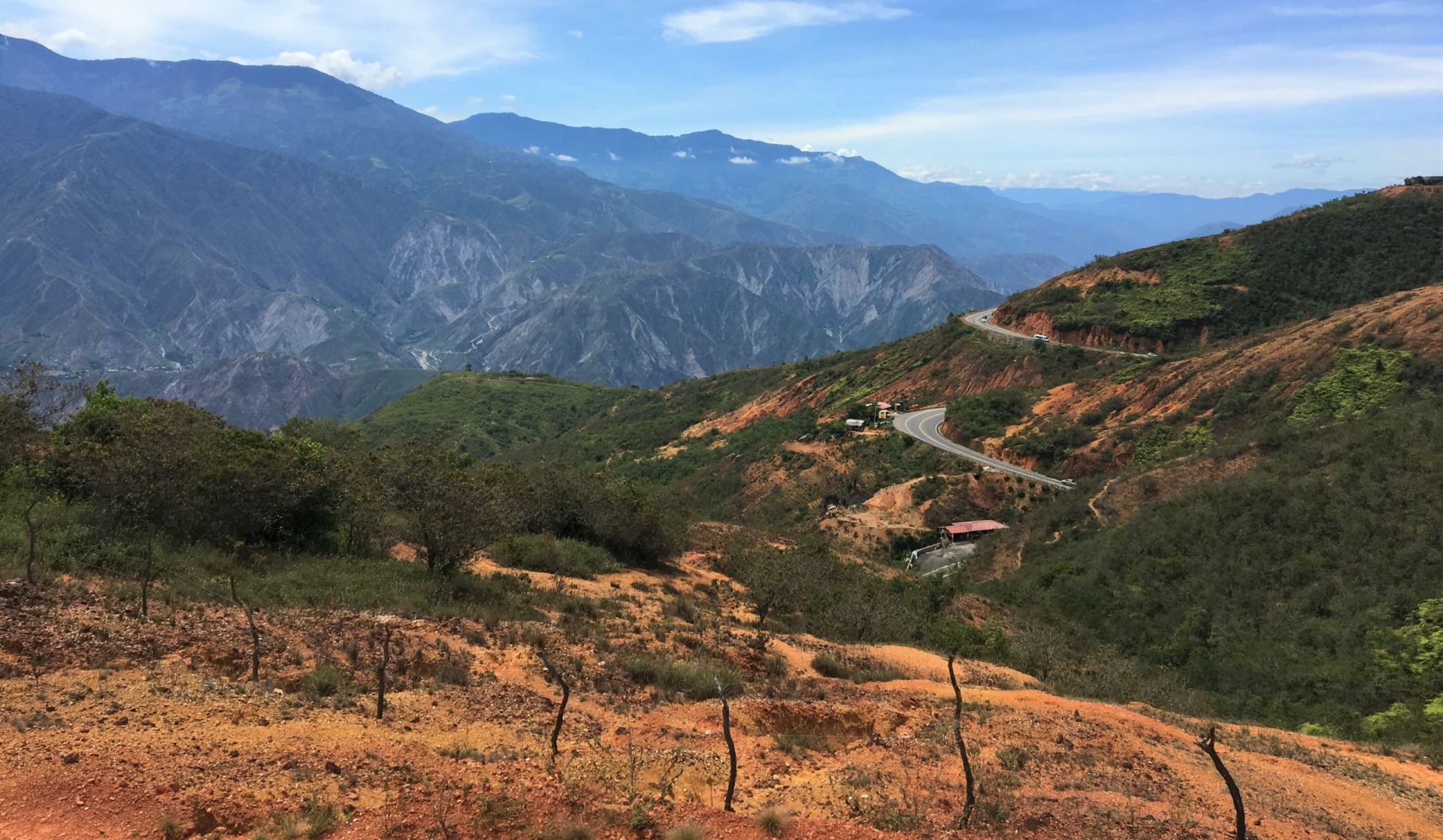 Bucaramanga and Girón 
You will probably pass through Bucaramanga after your stay in Barichara and San Gil, in order to reach other Colombian cities by plane. 
Bucaramanga is one of the most important metropolitan centres in the country, and the capital of Santander. An active commercial centre, the city is also an important university centre with a festive nightlife (many restaurants, bars and clubs).
Our advice: If you stop here long enough, we recommend a visit to the colonial village of Girón, for a pleasant day in the Santander countryside.
What to do in Santander? Activities Adventure Colombia
Canyons, pictograms, rafting, paragliding, hiking … discover the best activities to do in Barichara and Santander! Contact Aventure Colombia ([email protected])
Guane Canyons and Pictograms
This excursion to discover the remains of the Guane civilization will take you through beautiful landscapes at the crossroads of the Suarez and Chicamocha canyons. This is community-based tourism in very little-visited sites, accompanied by a local guide. 
This is an extraordinary experience where you will have the opportunity to walk through the Andean dry forests and discover pictograms left by the ancient Guane communities. Along the way you will encounter many cultures and experience the influence of the Sogomoso River on the climate. Get ready for spectacular views of the canyons on this Guane civilization tour.
VTT Rio Suarez
From San Gil, this mountain bike tour near Barichara is an amazing mix of adrenaline and downhill riding. Above Barichara, at an altitude of 2,000 metres, prepare for a 25km descent to the majestic Suarez Canyon, deep in agricultural landscapes. You will then visit Barichara by bike along its carved stone streets. 
A little bonus! This day trip mixes adventure, exceptional natural landscapes and cultural discovery, with a beer at the end of this unforgettable day!
Rafting for all levels
Rafting on the rio Fonce: on the 11km course of the rio Fonce, you will encounter type I, II and III rapids. Are you a family? There are courses for children to share this adventure together!
Rafting on the Rio Suarez: the trip lasts 2 hours and the rapids are of type III to V. It is during this adventure that you will find world-famous rapids, watch out!
Rafting on the Rio Chicamocha: this is a 2 hour trip over 11 km where you will cross rapids of types I to III. This excursion is proposed for those 16 years and older.
Please note! It is recommended to be in good health to do this course.
Paragliding
Paragliding over the Chicamocha Canyon: This unforgettable experience will offer you a breathtaking view of the Canyon, in the heart of the Chicamocha National Park, only 50 minutes from San Gil.
Good to know: The outings take place early in the morning and the flight lasts between 20 and 30 minutes. The level of difficulty is intermediate.
Paragliding Curiti: This is an easier excursion, suitable for all ages, where the flight lasts between 8 and 15 minutes, all accompanied by an instructor and a certified guide. It is an ideal family outing, a pleasant and peaceful experience.
Rando Zapatoca : Culture, History
Zapatoca was founded in 1743. In addition to offering a rich cultural panorama, Zapatoca has diverse landscapes ranging from desert to rainforest, from intensive farming to paramo. This 5 hour walk in Santander is characterized by a route through streets, churches, cemeteries and observation of rock formations. You can also enjoy a SPA experience in the Casa del Vapor and a moment of relaxation in a Jacuzzi with medicinal herbs. A little comfort after great adventures!
Hiking in the region of Barichara, Chicamocha, San Gil
Hiking in Alto del Viento: This beautiful 5-6 hour hike will take you along the Rio suarez, in the heart of the Yariguies National Park wilderness, through the forest and up to a beautiful finca where you will discover the agricultural crops and crafts of the region.
You will be accompanied by a local guide who will take you to the most beautiful and little-known corners of the region.
Real a Cabrera hike: From Barichara, this 5-6 hour hike will take you into the interior of the Canyon. You will pass tectonic plates, waterfalls of over 90m and a beautiful desert landscape where the climate and altitude will vary throughout the walk.
Please note! This is an intermediate-level excursion, which requires an adequate physical condition.
Nature Excursion, The Canyons of Santander: This 3 hour hike will take you up the mountainside through eucalyptus and pine forests. You will climb up to the extraordinary Mirador de los Guanes with a breathtaking view of the Chicamocha, Suarez and Sogamoso rivers. The tour also includes a SPA with Jacuzzi for a relaxing moment!
Barichara : Restaurants
IGUA NAUNO Very good quality, light food in a friendly setting. Address: carrera 7 con calle 1, Barichara Opening days and times: Wed – Mon: 5pm – 11pm Prices: dishes between 5 000$ and 15 000$.
SHAMBALA Vegetarian restaurant that knows how to make people appreciate preparations with incredible aromas and flavours, delicious. Address: Carrera 7 n°6-20, Barichara Opening days and times: Thu – Tue: 12pm – 10pm Prices: Dishes between $8,000 and $22,000
SHANTI RECETAS PARA EL ALMA Slow food restaurant with organic products. Address: Carrera 7 # 6/22, Barichara Opening days and times: Mon – Sun: 12pm – 9:30pm Prices: dishes between $22,000 and $35,000
RESTAURANTES LAS CRUCES This establishment, created by the Fundación Escuela Taller de Barichira, offers traditional Colombian cuisine based on regional products and prepared by students in cooking and gastronomy. Address: Carrera 5 4-26, Barichara Opening days and times: Mon – Fri: 12pm – 3pm, Fri: 7pm – 9:30pm, Sat/Sun: 12pm – 4pm, 7pm – 9:30pm Prices: dishes between $15,000 and $42,000
Barichara : Handicrafts
NATURART Handicraft shop made from natural materials. Address: Calle 6 #95, Barichara
TIENDA TALLER BARICHARA Design handicraft shop, offering beautiful wooden jewellery. Address: Calle. 6 #11-10, Barichara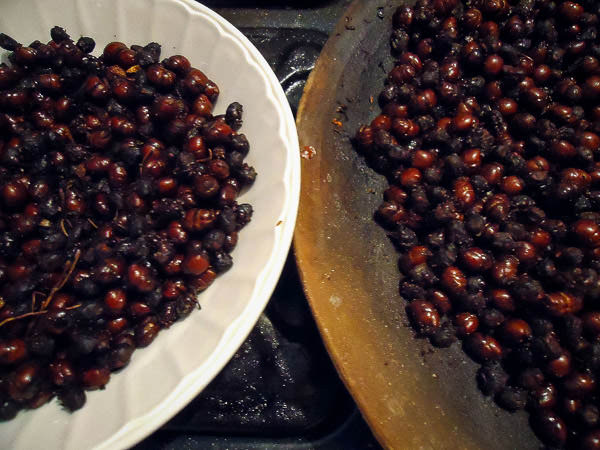 Contact a Travel Agent now
Design the trip of your dreams today with one of our country experts: