Nuqui is the ideal place for whale watching on the Pacific coast between July and October. If you are looking for a totally disconnected stay, in beautiful virgin forest landscapes, this is the place to go by the ocean! This little haven of peace and tranquillity is still difficult to access, which makes it an off-the-beaten-track destination, preserved from mass tourism.
A wild paradise worth the trip!
If you are a lover of ecotourism and unspoiled nature, we recommend that you take a look at our article. Here you will find the places to visit in the region of Nuqui as well as the different stays you can make in the region, and modulate them according to the days you want to spend in Nuqui. For us, this is a magical region, which is really worth the trip, if you are a lover of natural landscapes.
Nuqui in music
Nuqui, whale watching and wild landscapes
Nuqui has beautiful, unspoiled grey sand beaches. In Nuqui, the virgin forest flows into the Pacific Ocean forming magnificent natural and wild landscapes. This small fishing village lost in nature is a haven of peace, preserved from any form of modernity, out of time. The beaches of Nuqui are mainly in the south, towards Guachalito, one of the most beautiful beaches of the region. Coconut trees, black sand, thousands of animals… Nuqui is the ideal place for ecotourism lovers and nature lovers in a wild state. It is also the ideal spot for whale watching from June to October, for big game fishing and for surfing!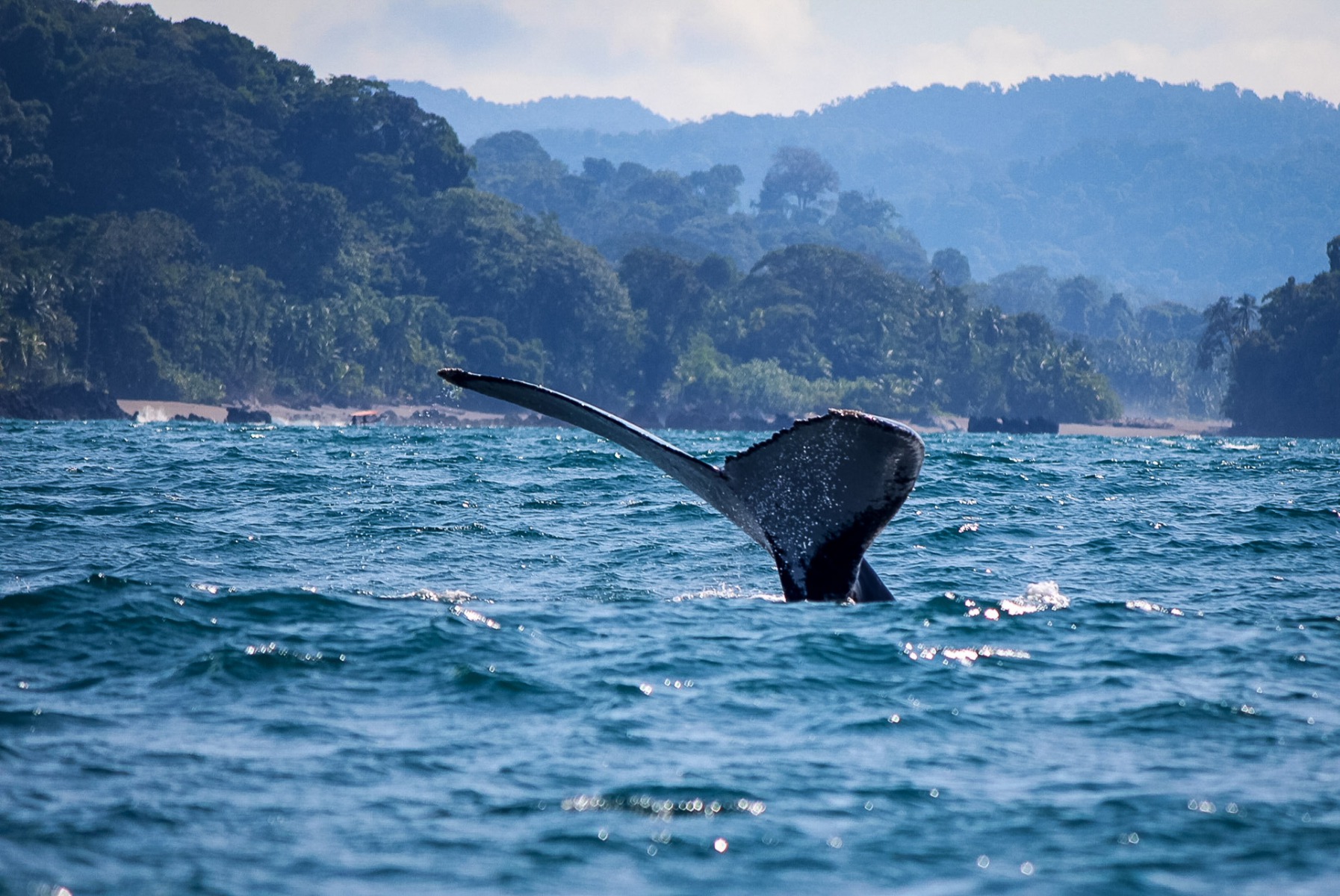 The Utria National Nature Park is a unique and magical place. We believe it is the first thing you should visit when you are in the Pacific. Home to rainforest, coral reefs, estuaries, mangroves and the ocean, the Park has one of the most diverse ecosystems and biodiversity in the world. However, it is also one of the most fragile ecosystems on the planet.
The park covers 54,300 hectares and consists of coral reefs with very few sandy beaches. The jungle almost reaches the seashore. In the park live Afro-American and mestizo communities and ancestral indigenous communities, such as the Embará and the Kunas.
Admission: 44,500 pesos for non-residents
From 8am to 5pm – 30 min boat ride from Bahia Solano.
Not to be missed! We advise you to enter Ensenada by boat! The scenery is amazing.
The coast of Utria is rocky and narrow, with small islands dripping with lush rainforests, where hundreds of birds can be found. 
Los Thermales
Would you like to take care of your body in a relaxing moment? We recommend a visit to the natural spa in Los Thermales village. Here, in an unspoiled natural setting, you can enjoy the benefits of regenerating mud. This natural hot spring comes from the bowels of the sea and produces warm water in a paradisiacal setting by a small stream.
Good to know : This fishing village is about 30 minutes from Guachalito and the spring is really close by. In the vicinity, we advise you to visit the beautiful waterfall of Cuatro Encantos. It is not yet very touristy, so take advantage of it!
Jurubida
Jurubida is for us a wonderful destination if you are into ecotourism and whale watching. Colombians and foreigners alike come to visit the region for its cultural, natural and gastronomic wealth! It is truly a unique destination on the Pacific coast.
Did you know that? Jurubida is a small village in the department of Choco. Here, the predominantly Afro-Colombian population lives from tourism, fishing and agriculture.
What to do in Nuqui? Aventure Colombia Activities
For sports enthusiasts, there is no shortage of activities in Nuqui! Discover the underwater fauna by diving or snorkeling. Attention: This is not for beginners!
You can also surf here. From June to October you can even surf alongside the whales if you are lucky! You can also kayak and do other water sports such as deep sea fishing.
Tip : Don't hesitate to venture into the rainforest on a hike, to discover the exceptional flora and fauna.
Whale watching, boat tours, hiking … discover our activities in Nuqui
El Cantil
Nuqui – whale watching (choice of 3 or 4 days): Hotel El Cantil offers a real paradise for all nature lovers, travellers looking for peace and quiet. Discover the local fauna and the rainforest during a guided walk. This stay will allow you to go to sea in search of humpback whales and visit the small village of Los Thermales to enjoy its warm and relaxing thermal waters.
El Cantil – Descanzo (3 or 4 days): You will discover the "Cascada del Amor" passing by totally virgin beaches, virgin forest and the surroundings of this very pleasant eco-lodge. During this unforgettable stay, you can even practice water sports such as diving, surfing, and bathing in the region's thermal waters. This relaxing trip will take you to the heart of the wilderness, in breathtaking landscapes.
El Cantil et Ensenada de Utria (5 days)
Discover the beautiful Eco-lodge El Cantil and the unique Utria National Park and enjoy 2 paradises surrounded by a great biodiversity of rare beauty. This 5-day Pacific immersion is the ideal tour for nature lovers and travellers looking for a total change of scenery. You'll enjoy waterfalls, beautiful beaches, thermal waters and wildlife. You can even hike through Nuqui, Guachalito, Utria Park and Thermales to discover the unique ecosystems of the region!
Nature and Embera Tradition (3 ou 4 jours)
Discover the Embera culture, an indigenous community living on the Pacific coast. On a tour with a local guide, you can live like the locals and learn about their architecture and the symbolism of shapes, numbers and layout. You will visit sacred sites in the middle of nature and the beautiful waterfalls that surround them, all in breathtaking landscapes with exceptional views.
This journey into the heart of the Embera Tradition is a unique and unforgettable experience, completely untouched by mass tourism.  
Contact a Travel Agent now
Design the trip of your dreams today with one of our country experts: