Thrill seekers will fall head over heels in discovering all that Colombia has in store for them. Between the various snow-capped mountains to climb, the wild rivers to tame and the coral-rich seabeds to explore … Colombia has not finished surprising you. To be safe, make sure your insurance covers extreme sports. Here are our top 10 activities and extreme sports to practice in Colombia.
1. Paragliding
A large number of places in Colombia are naturally predisposed for paragliding thanks to the different warm winds, high relief and especially its beautiful landscapes. The departures are generally at high altitude and often above a cliff, accompanied by a tandem instructor. You will also need to have good weather on the day of the flight, otherwise the experience may be cancelled; so beware of the rainy season. The flight can be longer or shorter depending on your budget and can include 360° stunts, spins and loops. You will regularly be offered to film yourself during the flight which is a great idea to immortalize your reactions.
The most famous places to go paragliding are: Canyon Chicamocha near San Gil, Territorio Paraíso near Cali, San Felix or Jericó or Jardín near Medellin, Sopó not far from Bogota etc. 
2. Rafting & Kayak
The important relief with which Colombia is endowed, makes the country particularly conducive to practice Rafting and Kayak. Therefore, we find, not far from the pleasant city of San Gil, the Colombian reference in terms of rapids, located in the department of Santander. You can enjoy the "Rio Fonce, Rio Suarez and Rio Chicamocha", three rivers with rapids ranging from class 2 to 4+. Not to mention other well-known sites such as Rio Magdalena in the department of Huila, Rio Barragan in Quindio or Rio Negro in Cundinamarca.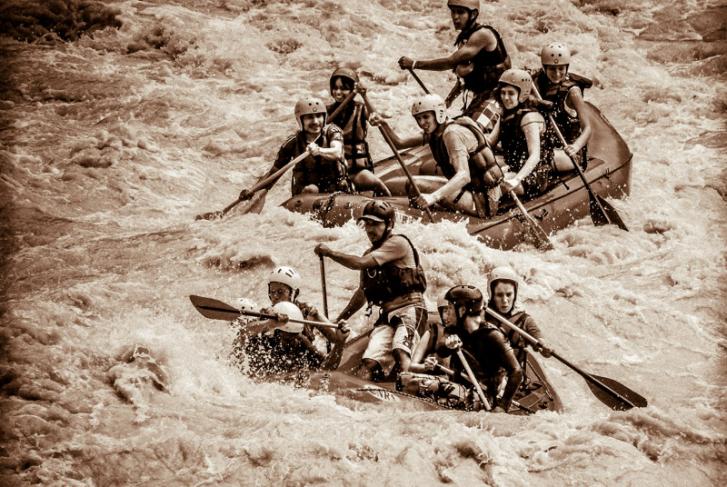 3. Trekking
From mountains to jungles to deserts, Colombia's landscapes are of great variety and this makes it a particularly rich and diverse destination for hiking. How better to escape the air pollution and noise than to be in the middle of nature? The change of scenery is guaranteed! Here we will list some of the most wonderful hikes to do in Colombia: The Lost City – its jungle and ruins, Cocuy National Park – its snowy mountains and glaciers, Puracé National Park – its wild life and volcano, Cocora Valley – its gigantic palm trees populating green plains, Tatacoa Desert – its surprising reliefs, the Amazon – its pristine forests, Tayrona Park – its breathtaking flora and fauna etc.
4. Diving
Thanks to its 3,000 km coastline on both the Pacific and the Caribbean – and its many islands, Colombia offers you a very wide choice of sites to dive. Especially around Providencia and San Andres (third largest barrier reef in the world and a UNESCO World Heritage Site), Isla Malpelo, Capurgana, Sapzurro, Barú and Taganga. The country's seabed is ideal for beginners as well as for advanced divers. Indeed, there are different levels of difficulty ranging from the sites of Old Providence and MC Bean Lagoon, to the San Andres Biosphere Reserve, to the wild waters of the Pacific Coast and its gigantic schools of sharks – more addressed to advanced divers. In terms of rates, dives on the Caribbean Coast are very affordable. It is necessary to count around COP$650.000 for a week of PADI certification. Be careful to check the seriousness of your dive center before signing up. 
5. Mountain biking
Bicycling is a sport much appreciated by Colombians. This shared passion is made possible in part by the well-maintained roads as well as the mountainous terrain that has allowed Colombians to become strong cyclists, regularly participating in the Tour de France. The most popular places to practice mountain biking are (San Gil with the Chicamocha Canyon course, Armenia with the Peñas Blancas course, Medellin with the Santa Elena and Guatape, Salento with the courses of Alegria and Simon Bolivar etc.) 
6. Kite Surfing
You can also kite surf in Colombia, and yes! There are excellent kite surfing sites on the Caribbean coast between Carthagena de Indias with La Boquilla and Isla Baru, Barranquilla with Puerto Velero and the famous site of Santa Veronica as well as further east with the Guajira, you have a choice. A wide selection of Kite Surfing schools are available to you, perfect for beginners as well as advanced levels. Indeed, some places of the coast meet the ideal conditions to practice this discipline, wind, waves and warm winds in side shore. All this in idyllic settings that will suit all tastes, from the lively city of Cartagena to small fishing villages and coconut palms. Be careful, however, to respect the right season for this practice, which runs from December to May.
7. Caving
Go exploring the depths of the caves of Rio Claro (Antioquia), Cueva de la Vaca (Santander) or Cuevas Caja de Agua (Huila), rush deep into the rock passing through small narrow tunnels leading you directly to rooms sometimes over 20 meters high. You will have the opportunity to discover wildlife living in total darkness as well as breathtaking rock formations thousands of years old.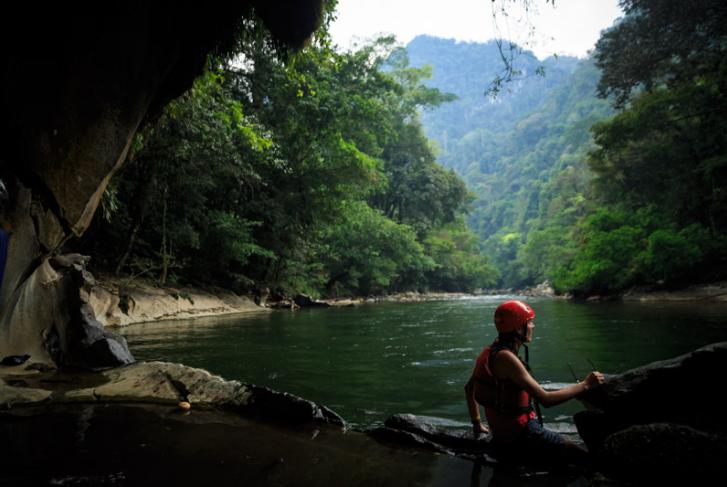 8. Motorcycle
What better way to discover the different landscapes that Colombia has in store for you than to hit the road on a motorcycle? You can take advantage of the country's roads to discover the coast from Santa Marta, or Cabo de la Vela or then to explore the surroundings of Guatape. It is also possible to discover the desert of Tatacoa and its surprising colors. Why not also discover a colonial town such as Villa de Leyva and its surrounding nature. Some routes can be difficult to remember, so consider taking something to orient yourself – a GPS or phone.   
9. Surfing
Colombia has incredible surfing beaches on both the Caribbean and Pacific coasts, suitable for all levels. The practice sites are easier to access on the Caribbean coast, which also means that they are more crowded but more suitable for a beginner audience: Costeño beach, Cartagena Jetty, El Muelle, El Bolsillo … while those on the Pacific coast are more difficult to access and therefore quieter, mainly concentrated around Nuqui and a more advanced level with Termales, El valle, Pico de Loro etc. The best season for surfing in Colombia is from December to March and July to September.
10. Canyoning
Canyoning is an adventure sport that is practiced in the wilderness. The objective is simple: you have to go from upstream to downstream of sites such as canyons, rivers, waterfalls, gorges etc. and overcome the various obstacles that are presented to you by alternating walking, swimming, climbing, abseiling, jumping and sliding. This activity falls into the category of sensational sports. It is a demanding discipline that needs to be practiced with certain safety instructions. We therefore recommend that you choose your excursionist carefully. The most popular sites in Colombia for this sport are Ibagué and Minca.
Contactez Maintenant Un Conseiller de Voyage
Construisez dès aujourd'hui le voyage de vos rêves avec l'un de nos experts du pays: